Lindsay Out? Taylor In? Star Shake-Up In 'One Night With You'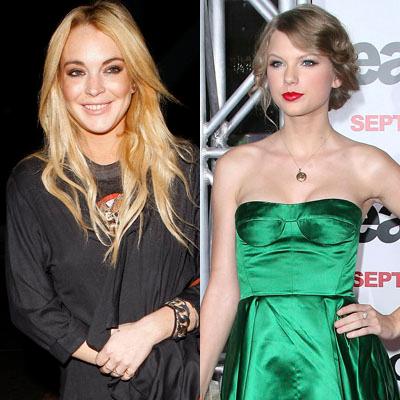 Lindsay Lohan's continuing legal troubles could have torpedoed her appearance in the movie One Night With You, and now Taylor Swift's name is being tossed around to take over the role, RadarOnline.com is reporting.
The part would have been perfect for the Mean Girls star, 24, as the script involves a child star whose career is ruined by a series of scandals only to then book a gig on a reality dating show to try and revive her career and image.
Article continues below advertisement
But now writer/producer Richard O'Sullivan is having second thoughts about casting Lohan, who was sprung from jail on Friday night after posting $300,000 bail. Although she was expected to spend a month in jail to await her next hearing, she was released after only serving 12 hours behind bars.
Lohan is expected to check herself into rehab as early as Monday.
Writing on his website, O'Sullivan said: "It's very frustrating – we've had financing ready to come to the table for the damned thing for almost a year now.
"But we can't put ink to paper, block out dates, and start rolling until we're reasonably assured that she isn't gonna wind-up dead or incarcerated for a very long time."
And now it look's like they could turn to country singing sensation Swift who would prove much less of a risk than Lohan at this point.
Swift, who has appeared in movies like Hannah Montana: The Movie, Jonas Brothers: The 3D Concert Experience and Valentine's Day, would be an ideal replacement.
Article continues below advertisement
"The producers had actually talked to Taylor Swift's agent a few months back about replacing Lindsay, but Taylor was in the middle of her tour.
"Now that Lindsay can't conquer her troubles, they're taking the offer back to Taylor," a source told WENN.
Plans for Lohan's next movie Inferno are already on ice because director Matthew Wilder is not sure if they will be able to shoot the movie about porn star Linda Lovelace in Louisiana as Los Angeles Superior Court Judge Elden Fox may prevent her from going out of state.
PHOTO: See Lindsay's New Mug Shot
Wilder and his team of producers may have to switch the production back to Los Angeles, but they too are still sweating to find out if Lohan will be able to shoot the movie because of her legal and personal problems.
In recent years, Lohan's personal life has been plagued with controversy and it may be affecting her movie career as well. She has been missing from the big screen since 2007's psychological stripper flop I Know Who Killed Me and her last hit movie was 2004's Mean Girls.