Exclusive
EXCLUSIVE: Salahis Said President Obama 'Personally' Invited Them To White House, Says Ex Publicist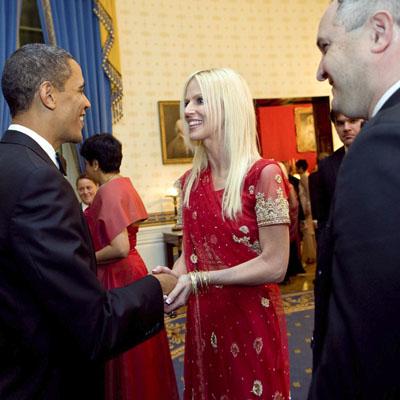 A federal grand jury investigating White House 'gatecrashers' Tareq and Michaele Salahi has twice interviewed their former publicist, RadarOnline.com has learned.
"I was very close to this situation," Mahogany Jones told RadarOnline.com in an exclusive interview.
"I've appeared in front of the grand jury (but) I can't say too much about it."
While criminal charges against the pair still have not been ruled out, the Salahis laywer, Lisa Bloom, recently told CNN the couple "are innocent" of crashing the White House.
Article continues below advertisement
The Salahis "were not on one list, but they were on two other lists", she added.
The Salahis are also behind a new book by journalist Diane Dimond to tell "the never before revealed details of what happened before, during and after" their November 2009 'crashing' at the Obama administration's first state dinner.
To the embarrassment of the Secret Service, the Salahis shook hands with President Obama and Vice President Joe Biden, without having a formal invitation.
Jones, who was hired by the Salahis in 2009 after the couple was cast on Bravo's Real Housewives of D.C., refused to be interviewed for Dimond's tell-all; but in her first in-depth interview, the public relations advisor told RadarOnline.com the notorious socialites could face further legal ramifications.
"That's what they're portraying it to be, that they're exonerated," Jones said. "That's the whole falsehood."
Article continues below advertisement
VIDEO: Whoopi & White House Gatecrasher Clash Backstage At The View
She added, "From my perspective -- and I'm not legal counsel or anything like that -- but I believe there will be some action."
Jones resigned in May because her former clients were "rogue" and "completely uncontrollable."
While she wouldn't elaborate on what she told the jury under oath, Jones recounted for the first time, how Tareq and Michaele told a television producer President Obama "personally invited" them to his first state dinner.
She said a producer of the D.C. franchise enquired about seeking media credentials for the event.
"According to them, they were told by the Salahis that they were personally invited by the Obamas to go to this dinner," Jones told RadarOnline.com.
"That was odd to me, if you're calling asking me to assist in trying to get you attendance to the dinner and then someone else tells me they're already invited.
Article continues below advertisement
"Knowing the Salahis and their ways, a lie, or two lies, is not unreasonable for them."
Despite that claim, Jones recalled how the Salahis asked her to put them in contact with top Pentagon official Michelle S. Jones, a special assistant to the Secretary of Defense, in a bid to have them invited to President Obama's first state dinner.
Jones recalled, "Tareq had called me and said to me, 'We're trying to get in touch with Michelle Jones, is there anything that you can do to help us get in contact with her?'
Article continues below advertisement
E-mails between the Salahis and Michelle Jones indicate the official was trying to get them in to the White House event, but did not succeed.
In the last email from Jones, sent at 8:46 a.m., Nov. 24, she said she still had not gotten them tickets.
Yet in an email sent at 1:03 a.m., Nov. 25, the Salahis wrote that they did not get that phone message from Jones because their "cell phone battery died early this evening while we were in D.C. from our country home."
They wrote, "We ended up going to the gate to check in at 6:30 p.m. to just check, in case it got approved, since we didn't know, and our name was indeed on the list!"
The Salahis former staffer told RadarOnline.com, "That was odd to me because why would they need assistance from Michelle Jones when they supposedly had other connections within the White House.
"Those types of questions have come into my mind, but I didn't question it at the time."
Article continues below advertisement
VIDEO: 'Gatecrasher' Tareq Salahi Defends Wife's Figure On Real Housewives Of D.C.
Jones said the couple "are completely manipulative", and suggested their bold behavior was a ploy to attract attention for the Bravo program.
"I wouldn't put it passed them," Jones said.
"It's like Balloon Boy... I guess in their mind, this thing would have been the biggest thing on the show and would have brought ratings and everything."