Exclusive
EXCLUSIVE: Real Housewife Of NJ Caroline Manzo Testifies Against Danielle Staub; Read The Deposition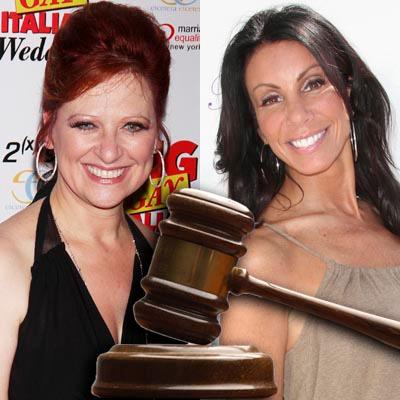 Warning: This story contains graphic details
Real Housewife of New Jersey Caroline Manzo has been dragged into her cast mate Danielle Staub's ongoing court battle with her ex-husband, and RadarOnline.com has the exclusive document detailing her involvement with the case.
EXCLUSIVE DOCUMENTS: Read The Deposition Here
The red-headed NJ Housewife who has openly talked about her disdain for Danielle on - and off - the show was recently deposed in a Federal defamation lawsuit filed against Danielle by her ex-husband, Kevin Maher.
Article continues below advertisement
At one point during her deposition, Manzo recounted the tales Danielle told her about her sordid married past in which Danielle claimed to have hid from Maher in a tree, claimed she was forced by him into prostitution, and how she feared for her life.
"She depicted him as a monster," Manzo recalled during her July 22 deposition. "She depicted him as someone who would beat her daily, as someone that put her in the hospital due to the beatings, I want to say on more than one occasion."
Manzo was deposed on behalf of Maher in an effort to help prove his defamation claim against Danielle. Maher claims the former Real Housewife of New Jersey star made damning allegations to other people about him, including that he raped her on broken glass, hanged or shot her dog, and that he inserted a gun into her and played Russian roulette.
Under oath, Manzo recalled statements allegedly made by Danielle and they appear to confirm Maher's claims. "She told a story about being raped on broken glass. One incident, she said that he shot her dog. And then another incident she claimed that he hanged her dog. I'm confused as to whether this all was at the same moment of the rape on the glass with the dog, and inserted a pistol up her vagina and played like a Russian roulette."
Article continues below advertisement
Manzo continued, "She claimed to have been hiding in a tree at some point, afraid that when he came home he would find her and beat her. She claimed to be the victim of prostitution due to his demands, that he put her into that world, again depicting him as an absolute monster. And the only reason she stayed with him, because she feared for her life if she left."
"Again it was just a picture of an absolute monster, that she was under his control... anything that she did during the course of her relationship with Kevin Maher was not of her own freewill; it was more or less a domineering person."