Exclusive
EXCLUSIVE: Danielle Staub's Ex Testifies About Her Life Of Sex & Drugs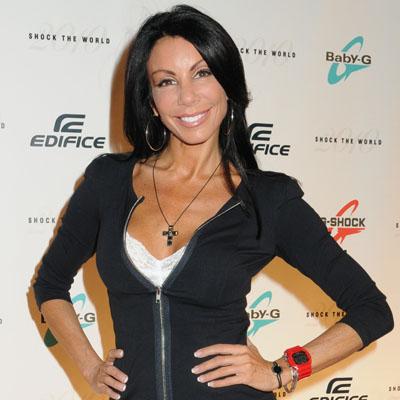 Warning: This story contains graphic details
The sordid past of controversial Real Housewives of New Jersey star Danielle Staub has resurfaced as her ex-husband Kevin Maher recently testified - with even more details - about Danielle's dark life when she was still known as Beverly Merrill.
DOCUMENTS: Read The Testimony From Staub's Ex-Husband
Danielle and Kevin were married in October 1988, and in his recent testimony, he reveals that when they married he was still wed to another woman -- a fact Danielle was aware of. In a videotaped deposition given in May, 2010, Kevin says he and Danielle got married because otherwise she would have been imprisoned for breaking her probation terms by hanging out with him, due to the fact he was a convicted felon. He says their relationship was marked by sex, drugs, and physical violence.
Article continues below advertisement
"Throughout our entire relationship from the very first day I met Danielle Staub till the end, there was cocaine involved just about every day of our lives," Kevin testified. The two met in 1986 at what Kevin calls a "cocaine party."
"We came into the hotel, and I believe it was the Mayfair Hotel, and there was a cocaine party going on with a bunch of drug dealers," Kevin said, adding later, "I believe I had sex with her in the bathroom."
Kevin delved deeper into their intimate relationship. When asked how many times he and Danielle had sex in the years they were together, he responded: "... it was every single day, morning, noon, and night... It was all day, all night. So it was more than - I'll say it was more than - more than four times a day."
He later added, "Danielle Staub, is in my opinion, a nymphomaniac. She wanted sex everywhere, any way she could get it."
Article continues below advertisement
The testimony is part of a lawsuit Maher filed against Staub for what he claims are untrue statements she has made against him.
Staub has alleged that Maher raped her on a bed of glass, inserted a gun into her vagina and played Russian roulette, and killed her dog by hanging it.
Maher adamantly denies the claims, calling them "complete lies." However, he did chronicle the violent side of their passionate relationship, admitting he has slapped her and pushed her around. Maher claims he did such things in self defense.
"The woman is a violent, aggressive woman. And she's 5 foot 7 tall. And when that woman came at you, I defended myself. I cannot recall a time where I hit her that I was not defending myself," Kevin told Staub's lawyer during the deposition.
Later, he continued in more detail. "I know we would get physical. I know I would take her down to the floor and try to hold her down, and she was kicking, scratching, biting. She took a knife and cut me...I've never punched her with a closed fist. I open-hand slapped her. I did pretty much- I think my biggest routine with her was I mushed her. I would grab her face and push her away from me. But I never was the aggressor in any altercations that I ever had with that woman."
When asked earlier if he thought It was okay to get physical in a fight with a woman, Maher said "no" but then added, "People from New York are animated" shortly before his lawyer jumped in to wisely cut him off.