EXCLUSIVE: Raising Sextuplets Dad Bryan Masche 'Totally Blindsided' By Separation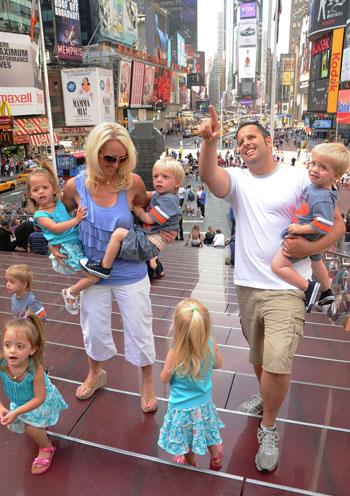 Raising Sextuplets dad Bryan Masche was "totally blindsided" by his wife Jennifer's legal separation petition, RadarOnline.com has learned.
Masche -- who had been receiving marriage counseling with his wife –- had hoped that the pair could patch-up their relationship following his arrest at her parents Arizona home.
But Jennifer's September 17 filing for separation at Yavapi County Superior Court was like a 'hammer-blow' to the father-of-six.
Article continues below advertisement
EXCLUSIVE PHOTO: The Smiling Mug Shot Of TV's 'Raising Sextuplets' Dad
A source close to the situation told RadarOnline.com: "This was no publicity stunt. It is their real lives and Bryan was totally blindsided by what happened.
"Their friends and family are very sad for them both as they are not big television or movie stars and the stress just really got to them.
"He was still doing counseling and he was heart-broken when Jennifer filed for the separation as he though they could work it out," the source said.
"He is being painted as a certain type of person which is not true because he is not a violent guy and used to be in the armed services.
"It's very sad because everyone really likes them both and doesn't want to take sides but unfortunately these things happen.
"One good thing is that Jennifer is making provision for Bryan to see his kids and only time will tell if they can ever reconcile."
RadarOnline.com understands that the couple have now left Florida and moved back to Arizona where they originally lived before signing-up for We TV network's show.
Article continues below advertisement
Jennifer is staying in the Campe Verde area with their kids while he has relocated to Lake Havasu which is around 265 miles away.
911 Call - Hear The Audio On RadarOnline.com
"A lot of people who know Jennifer were surprised that she would take this drastic action without even informing him," the source said.
"Bryan did not even have time to get his own lawyer and I'm sure he will be better prepared the next time they go to court."
Jennifer is also seeking both sole legal custody and primary physical custody of the kids with reasonable visitation for Bryan.
In addition, Jennifer is seeking child support but is requesting an order from the court to determine that neither party pay spousal support to the other.
She is also asking for equitable division of certain joint, community and other property and debt and that each party pay for their own attorney fees.
Article continues below advertisement
When RadarOnline.com contacted Bryan Masche on Wednesday he said he would not comment on the matter until the couple returned to court next month.
The couple's six-year marriage imploded after a fight at the Arizona home of Bryan's in-laws, Sue and Robert Simbric, which resulted in his arrest on September 11, 2010 -- Bryan had threatened to "flatten" his father-in-law.
Bryan was subsequently charged with two counts of disorderly conduct for domestic violence, one count of resisting arrest and one count of threatening domestic violence although their children were not inside the home at the time.
He was taken to the Yavapai County Detention Center where he was booked and released on a $3,500 bond.
Jennifer was working as a physician's assistant at a hospital in Destin, Florida.
Their sextuplets -- three girls and three boys -- were born in Phoenix, Arizona on June 11, 2007.
The couple got married on January 2, 2004 after Bryan asked Jennifer to marry him on national television at an Arizona Diamondbacks baseball game in 2003.