Exclusive
EXCLUSIVE DOCUMENTS: 'Raising Sextuplets' Wife Wants The Kids & Child Support, No Spousal Support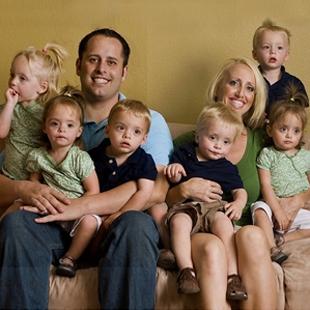 Raising Sextuplets reality TV couple Bryan Masche and his wife Jennifer have officially split up, and RadarOnline.com has obtained the petition for legal separation filed with the Yavapai County Superior Court.
EXCLUSIVE DOCUMENTS: Read The Petition For Legal Separation
According to the petition dated September 17, Jennifer - who married Bryan on December 31, 2003 in Lake Havasu City, Arizona -- is requesting to live separate and apart, as part of her court bid to grant an order of legal separation.
Article continues below advertisement
There are six minor children born in the marriage, aged 3, and Jennifer is seeking both sole legal custody and primary physical custody of the kids with reasonable visitation for Bryan.
Jennifer also states in the petition she is not now pregnant.
In addition, Jennifer is asking for child support but is requesting an order from the court determining that neither party pay spousal support to the other.
She is also asking for equitable division of certain joint, community and other property and debt and that each party pay for their own attorney fees.
Hear the Bryan Masche 911 Call
By way of Arizona law, both Jennifer and Bryan must attend and complete a Parent Education Program. Failure to do so may result in Contempt of Court.
As RadarOnline.com previously reported, Jennifer filed for legal separation from her husband just over two weeks after he was arrested in Arizona following a family bust-up during which he allegedly shouted profanities at his wife and threatened to "flatten" his father-in-law.
EXCLUSIVE PHOTO: The Smiling Mug Shot Of TV's 'Raising Sextuplets' Dad
Masche exclusively told RadarOnline.com that he was "not a criminal" but his wife has decided to call it quits on their relationship.
He had been charged with two counts of disorderly conduct for domestic violence, one count resisting arrest and one count threatening domestic violence.