Exclusive
EXCLUSIVE: Oksana's Shocking New Charge Revealed In Explosive Deposition - 'Mel Dropped Baby While Smoking'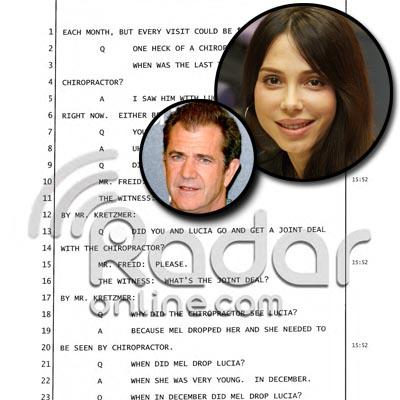 Oksana Grigorieva has claimed Mel Gibson "dropped" their infant daughter Lucia when he left her alone and went outside for a cigarette at his Malibu mansion, RadarOnline.com has exclusively learned.
EXCLUSIVE DOCUMENTS: Read The Explosive Deposition
The shocking charge against the Lethal Weapon star was made during the Russian musician's explosive deposition in their bitter court battle over custody of the child.
Article continues below advertisement
The deposition, which is under seal in a Californian court, has been exclusively obtained by RadarOnline.com.
In the August 2 deposition, that was videotaped, Oksana told her former lover's lawyer, Michael Kretzmer, their tot - two months old at the time - had to be treated by a doctor "because Mel dropped her and she needed to be seen by (a) chiropractor."
"I ran downstairs and he already picked her up and told me that he did something stupid," Oksana testified, under oath.
"He (Mel) didn't say very much, he was upset and I took Lucia and I was -- I didn't say anything to him.
"I asked him how it happened, and what had happened and how he found her, and he explained everything to me.
"Showed where she fell from and I analyzed her and looked at her eyes."
OFFICIAL PHOTOS: Authorities Examining Mark On Baby's Face
Oksana said little Lucia cried for up to 20 minutes after the incident.
Article continues below advertisement
Mel's estranged gal pal continued: "I looked at her bruises - not bruises but the bump on her front and the bump on her back, back of the head and the front of the head and analyzed that - but she looked focused.
"After initial shock of crying and, of course, I consoled her and she stopped crying eventually."
Oksana said she and Mel immediately contacted a doctor but "since Lucia didn't show signs of serious injury... there was no need to take her to an emergency room."
When pressed further, Oksana recalled how Mel had propped Lucia with a cushion on top of a table, at around 8am.
"So literally she was sitting on a slide on top of the table," Oksana said.
"I think he went to have a smoke and she slid down."
Kretzmer questioned Oksana on whether Mel reconstructed or reenacted the accident.
She replied: "There was no reconstruction. He just explained it to me."
Kretzmer also questioned Oksana's claim that Mel left Lucia in order to smoke, to which she responded: "I thought he did, I'm not sure... Because he said he left her for just a minute."
MORE ON:
Oksana Grigorieva
Article continues below advertisement
The attorney probed Oksana about the treatment Lucia received from the chiropractor.
"Her head was very conehead like and he helped with that," Oksana said.
The latest allegations follow explosive claims from Oksana, which were exposed in the foul-mouthed tirades of the Oscar winner - all caught on tape.
The Hollywood star was brutally accused of hitting Lucia during a heated argument, in January this year.
Article continues below advertisement