Exclusive
EXCLUSIVE: Lindsay Lohan 'In Denial' About Drug Addiction; Considering Stint At Betty Ford Clinic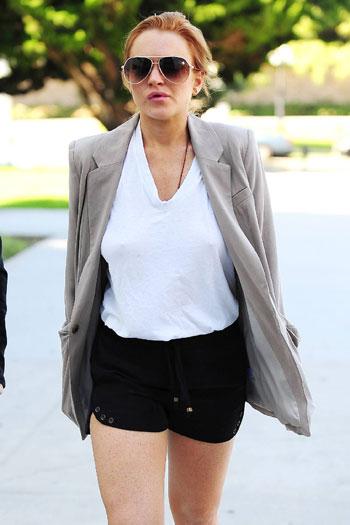 Lindsay Lohan is "in denial" about being a drug addict and doesn't realize her substance abuse issues "could kill her" — this according to one of her closest confidants.
Lohan is headed back to rehab in the next 48 hours — and while a final decision hasn't been made on the destination — sources tell RadarOnline.com the Mean Girls star is closely looking at the Betty Ford Clinic in Rancho Mirage, California, which is just outside Palm Springs.
Article continues below advertisement
This will be Lohan's fifth time entering a rehab facility for substance abuse, her second stint this year, with the most recent being a 22-day stint at UCLA's Medical Center in August following her 14-day prison term.
But according to the source, "Lindsay is still in denial about being an addict and doesn't realize this disease can kill her."
"She is in denial about the power this disease has over her," said the insider.
"Even though she has been to jail twice in recent months, it hasn't changed Lindsay's underlying behavior.
"Lindsay is willing to get help, but she doesn't seem to grasp the severity of her drug addiction."
A 30-day inpatient program at Betty Ford, one of the best in North America, costs approximately $26,000.
Lohan will have access to the campus' 20-acre state of the art facility that is privately gated and armed with security around the clock, as well as the center's promise of a "lifetime of support" after she leaves the program.
Article continues below advertisement
The Betty Ford Center has hosted many notable celebrities such as Anna Nicole Smith, Keith Urban, Robert Downey Jr. and Chevy Chase.
PHOTOS & VIDEO: Lindsay Lohan Ordered Back To Jail
RadarOnline.com has also learned Judge Elden Fox, who remanded Lohan into custody with no bail pending her probation violation hearing on October 22, could haul the starlet back into his courtroom.
"There is a small chance Judge Fox could place further restrictions on her bail pending the next hearing," said one legal source, involved in the case.