VIDEO & PHOTOS: Lindsay Lohan Ordered Back To Jail; Bail Revoked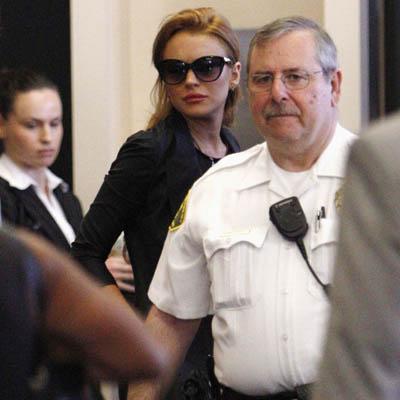 Lindsay Lohan is back in jail.
In a stunning move, Los Angeles Superior Court Judge Elden Fox threw the book at the troubled starlet Friday morning in Beverly Hills, revoking her bail and ordering her back to jail.
Lindsay was immediately handcuffed and taken into custody. She was put in an unmarked squad car - surrounded by a police escort - and is now being transfered to the Lynwood Correctional Facility in Southern California - the same jail where she previously did time.
Article continues below advertisement
VIDEO: Michael Lohan Talks About Lindsay Going Back To Jail
As the judge announced his decision, Lindsay appeared stunned, according to an eyewitness in court.
VIDEO: Lindsay Lohan Arrives To Court Friday
The judge set a hearing for October 22nd for her formal probation violation hearing. At that time, she will find out her sentence for failing two court-ordered drug tests.
At that hearing, the judge has several options: he could order Lindsay to spend more time behind bars, he could order her to rehab, or he could release her because of credit for time served.
Both Lindsay's mother Dina and father Michael showed up separately for Friday's hearing.
Michael - who's famously estranged from Lindsay - said to her "I love you" as she passed him in the courthouse; Lindsay did not acknowledge him.
At a news conference outside the courthouse after the hearing, Michael - overcome with emotion - said, "I hope Dina doesn't try and keep me out of the jail to see my daughter. The worst thing Lindsay could have done is go to New York City for fashion week."
Article continues below advertisement
Unlike her last court appearance when she was late, Lindsay showed up early to the courthouse on Friday. She arrived wearing a stylish white skirt, black blazer, and oversized sunglasses. She did not speak to reporters while entering the courthouse.
This was actually Lindsay's first time facing Judge Fox, who was assigned to the case after the previous judge, Marsha Revel, recused herself.
When Fox agreed to let Lindsay leave rehab after serving only 23 days of her 90-day rehab sentence imposed by Revel, he warned the troubled starlet that he would send her back to jail if she failed or skipped any drug test.
On Friday, he made good on his promise.
In court, Lindsay's attorney Shawn Chapman Holley had asked Judge Fox to set bail, but he refused.
As RadarOnline.com has previously reported, Lindsay tested positive for cocaine at a random drug screening two weeks ago. She also failed a second random test which showed amphetamines in her system.
The dirty test results came only two weeks after she was released early from her court-ordered rehab.
Article continues below advertisement
Earlier this week, Lohan fessed up to the dirty drug test via her Twitter page, calling it at "setback", and saying she was ready to face the consequence.
After the dirty test came back, Judge Fox revoked the star's probation and issued a no-bail bench warrant for her. The warrant required her to appear in court Friday or face arrest.
As you'll recall, in July, Judge Revel sentenced Lindsay to 90 days behind bars and 90 days in rehab for violating conditions of her parole related to a 2007 DUI conviction. She was released from jail early due to good behavior and overcrowding.