Exclusive
EXCLUSIVE: Cops Gave Purse Back To Paris; Photo Could Help Prosecution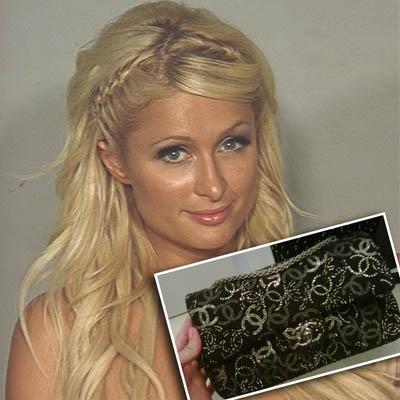 Paris Hilton's Chanel purse has become a controversial and possibly crucial item in her felony cocaine possession arrest, but RadarOnline.com has discovered that police gave it back to her instead of booking it into evidence.
The hotel heiress claims the purse in which cops found cocaine did not belong to her, and that she had borrowed it.
But on Thursday, RadarOnline.com broke the exclusive story that on July 15 Paris Tweeted a photo of a purse that appears identical to the one she claimed she borrowed.
Article continues below advertisement
In the official police report one investigating officer states, in part, "She told me the purse was not hers." It contained .8 grams of cocaine.
DOCUMENT: Read The Criminal Complaint Against Paris
Keeping the purse as evidence and matching it to the photo of the purse Paris Tweeted about would appear to give police and prosecutors strong circumstantial evidence against Paris.
But a spokesperson for the Las Vegas Metropolitan Police Department told RadarOnline.com, "We can care less about the purse. It was not booked into evidence. We gave the purse back and took the cocaine."
One top Las Vegas lawyer told RadarOnline.com that what police did is not unusual, but the photo could still play a big role against Paris.
"It isn't unusual for the police to only take the drugs as evidence, not anything else," Alex De Castroverde, a top criminal defense attorney in Las Vegas told RadarOnline.com. "They don't need the purse because they have the drugs."
But the lawyer added that the photo of the purse creates problems for Paris.
Article continues below advertisement
"This is pretty strong evidence for the prosecution," he told RadarOnline.com. "Even without the purse the photo could be good for the prosecution. It could be used to prove that it was Paris Hilton's purse.
"A judge will weigh the testimony of the police officer and his description of the purse and Paris' testimony and determine who is the more credible witness."
And other legal experts said Paris may have made a tactical error in taking the purse back from police.
Powerhouse Nevada attorney David R. Houston told RadarOnline.com, "If Paris were my client, I would have advised her not to accept the purse until the rightful owner had come forward to claim it.
"Depending on the verbiage on the forms Paris signed when she was released from custody and the items returned to her, she may very well have helped the prosecution by claiming she owned the purse."
When asked by RadarOnline.com if the paper Paris signed to get back the purse acknowledged she was taking possession of a purse that belonged to her a Las Vegas Metro Police spokesperson said: "It's part of our investigation and I am not going to comment."