Steven Slater: I Want To Be In The Sky, Still!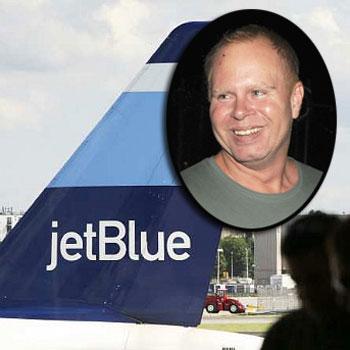 Steven Slater, the flight attendant made famous by his over dramatic departure from a JetBlue airliner, is anxious to return back to work, RadarOnline.com has learned.
In a press conference held today outside of his NY home, Slater stood beside his attorney, Howard Turman, who says his client has been "taking it easy" and misses his job.
"His hope is to return to the aviation world," Turman says, "That's his life. His mother was a flight attendant and his father was a pilot. It's in his blood."
Article continues below advertisement
Dressed in blue jeans and a burgundy shirt, Slater had a visible bruise on the right side of his head. His attorney said Slater and two passengers were struggling to get overhead luggage properly stowed but one of the passengers' bags fell and landed on Slater's head. And the rest of the story....well, its history.
Unfriendly Skies: Stars Who Have Had Run-Ins with Flight Attendants
Slater has become an aviation hero and hopes all the attention generated will help change the airline's carry-on baggage policies. "Thank you all so much," Slater said to cameras. "There has been a lot of love and support."