Exclusive
EXCLUSIVE PHOTOS: Mel Gibson's Mangled Maserati After Malibu Crash - See The Damage Here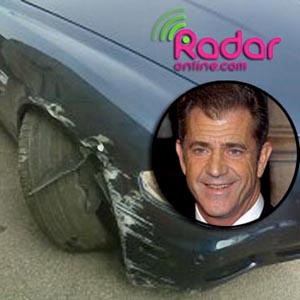 We could only imagine the rage!
This is the damage Mel Gibson did to his $130,000 Maserati Quattroporte when he lost control of the luxury vehicle and struck a rocky hillside in a rural area of Malibu Canyon on Sunday night -- and RadarOnline.com has photos of the damaged car.
The Lethal Weapon star, who reportedly fell asleep behind the wheel, has been left with a hefty bill to fix his high-performance wheel after it sustained significant front-end damage.
Article continues below advertisement
The photos show the right front bashed in back to the tire, which appears to have come off the axle.
The car was so damaged it had to be towed, RadarOnline.com has confirmed.
Cops have insisted alcohol was not a factor like it was in Mel's now-notorious 2006 DUI arrest.
OFFICIAL POLICE DOCUMENT: Read Mel Gibson's Accident Report
The Aussie actor also denied that he was talking on his cell phone or texting when he lost control of the car.
"For unknown reasons, Mr. Gibson steered his car to the right and struck the hillside," the California Highway Patrol noted in its report of collision.
Mel was alone at the time of the 8:35pm crash and called for assistance.
Earlier in the day, the Oscar-winning actor/director had custody of his infant daughter Lucia, as RadarOnline.com revealed.
The embattled actor had spent his first weekend with the eight-month-old in more than two weeks, after returning to California from Fiji, where he had been vacationing with two of his sons.
Article continues below advertisement
Lucia had been returned to her mother, Oksana Grigorieva, around 7pm Sunday.
Mel then went to his private church, the Holy Family Chapel in Agoura Hills, Malibu.
On his way back to his million-dollar mansion, Mel crashed the Maserati into a hillside on southbound Malibu Canyon Road.
He was not injured during the smash.
"He's OK," Mel's rep Alan Nierob told RadarOnline.com, in an statement.
Mel is locked in a bitter custody battle with ex Oksana Grigorieva, who has accused the Braveheart star of punching her twice in the face, while she held their daughter.