Exclusive
EXCLUSIVE: Oksana Hires New Lawyer -- Criminal & Forensic Expert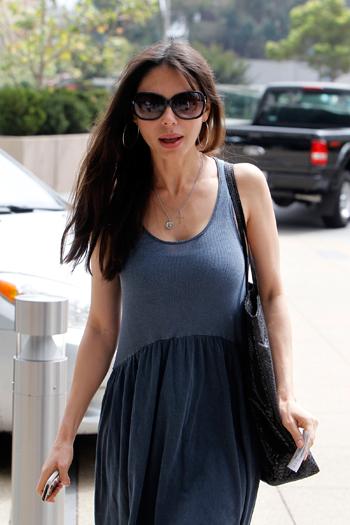 Oksana Grigorieva has beefed up her legal team with a top criminal and civil attorney, RadarOnline.com has exclusively learned.
With no settlement looming in the bitter fight with Mel Gibson, Oksana is digging in for a fight and appointed James W. Spertus, a former federal prosecutor and an experienced trial attorney who specializes in civil and criminal litigation, to her growing team.
As we revealed, Oksana had been lawyer shopping and previously met with civil rights campaigner Lisa Bloom and Mark Lane, who wrote the JFK conspiracy book Rush to Judgment.
Article continues below advertisement
She also met with two other firms, we understand.
Spertus joins power lawyers Manley Freid and Marci Levine in the Russian musician's corner.
He previously served for seven years as an Assistant U.S. Attorney in the Central District of California.
According to his law firm biography, Spertus helped found the office's Computer Crimes and Intellectual Property Section and tried criminal cases involving trade secret theft, computer intrusions and intellectual property theft.
He also served as Vice President at the Motion Picture Association of America.
Oksana, 40, has told investigators Mel, 54, exploded in rage January 6 at his Malibu mansion and punched her more than once as she held their infant daughter Lucia, before threatening to kill both of them.
She has told cops a blow to her mouth knocked one veneer off a front tooth and cracked another, while the fist left her bloodied and bruised.
Article continues below advertisement
On Tuesday, Team Oksana met at Freid and Levine's Los Angeles office after two successive days of hearings before a Los Angeles judge overseeing the case.
Oksana is considering filing a possible civil complaint against the Lethal Weapon star, who has accused Oksana of trying to extort money from him after recording vile and abusive telephone conversations he made.
In an interview with RadarOnline.com, Oksana denied the claim and said her ex-lover was "trivializing" domestic violence.
"What is unfair is that by standing up to somebody and speaking up, I'm being victimized all over again," she told us, in an emphatic denial that she tried to blackmail the Oscar-winning actor/director.
"I have never extorted anything from him... There's no proof of any kind. It's all false information that he's feeding the press. It's a smear campaign."
Mel's camp had also claimed Oksana edited the now infamous rants - an allegation she has also denied.
Article continues below advertisement