Exclusive
EXCLUSIVE DETAILS: Kat Von D Spends Romantic Weekend In Texas With New Boyfriend Jesse James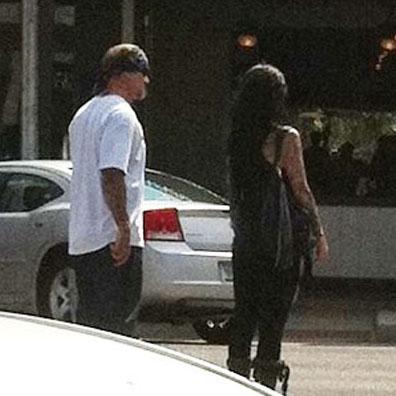 The romance between Jesse James and tattoo artist Kat Von D is heating up.
The couple has tried to lay low with their relationship, but RadarOnline.com can exclusively reveal that Kat flew to Austin, Texas on Friday night to be with Jesse for the weekend.
And the pair's romantic getaway included a visit to a World War II museum!
PHOTO: Sandra Bullock & Jesse James In Texas – But Not Together
"I saw Jesse and Kat holding hands while walking down the main street sidewalk of Fredricksburg, Texas," one eyewitness told RadarOnline.com.
Article continues below advertisement
"They came into town early afternoon Sunday on a motorcycle.
"They were chatting, holding hands and headed towards the Admiral Nimitz Museum."
According to onlookers, the couple was dressed casually with Jesse in a white t-shirt and blue bandana on his head while Kat donned black leggings and a black tank top.
"It's a quaint but busy little tourist town," the source said. "They didn't go unnoticed."
AUDIO: Kat Von D Defends Jesse James, Dances Around Romance Rumors
Kat tried to go incognito on her American Airlines flight Friday night by wearing a black hoodie pulled tight over her head.
"She's hard to miss," the eyewitness told RadarOnline.com.
After spending the weekend with Jesse, Kat flew home Monday morning and witnesses tell RadarOnline.com she flew first class and was "wearing a cream colored knit hat."
Comments are being sought from the new lovebird's reps.