Exclusive
EXCLUSIVE INTERVIEW: Bachelor Jake On Vienna: 'I Wish Her The Absolute Best'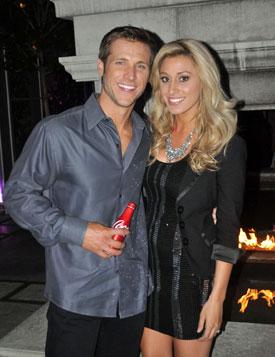 Jake Pavelka and Vienna Girardi may have had a pretty nasty break-up, but time heals all wounds, and it seems like he is over his anger and moving on.
In an exclusive interview with RadarOnline.com, Jake told us that he isn't holding a grudge against Vienna for their very public breakup. "I wish her the absolute best," the Bachelor star said.
VIDEO: Sneak Peek At Jake On Drop Dead Diva!
Jake and Vienna haven't spoken to each other since their Bachelor reunion TV show during which she stormed off the stage in tears. Still, he had kind words to say about his ex.
Article continues below advertisement
"I wish her great luck. I hope she goes out and breaks a million hearts. I think she has some pretty realistic goals in her life, and I wish her the absolute best. Hopefully she'll find that guy that she can spend the next 60 years of life with."
Jake is guest starring in the upcoming episode of Drop Dead Diva where he plays a producer being sued by a participant on a reality dating show and he told RadarOnline.com that he enjoys acting again. "I gave it up to fly airplanes and it kind of fell back in my lap."
He spoke about the difference between reality and scripted TV. "They're apples and oranges, night and day. Anybody can do a reality show. You just get on there and be yourself. With scripted TV you have to imitate real life."
Jake and Vienna's breakup happened while he was filming the Lifetime television show. "We were getting ready to film the very last scene and my publicist called and said hey something happened with Vienna," he told RadarOnline.com but it didn't stop production or his performance.
Article continues below advertisement
"I think the news was so big that it didn't really affect my performance at all. You're there to do a job, you're hired to play a character you want to get there and please the director and the crew with your performance so I just focused on what I was there to do and as soon as that was all over I could get busy worrying about what was going on with my relationship."
Jake told reporters on the conference call that he hasn't dated anyone yet, so we asked if he thinks he'll find someone to share his life with for 60 years too. "Absolutely," he said.
"I prefer blondes, brunettes and redhead or any combination there of," Jake told RadarOnline.com about his preference in women, but the girls he dates will have "big hearts, and be somebody that is really kind."
However, there is a deal breaker for Jake. "I don't really go for people that smoke."
Drop Dead Diva will air Sunday, August 22 at 9 pm on Lifetime, and Jake told RadarOnline.com that he will be someplace special watching the episode - Hawaii.