Exclusive
EXCLUSIVE: Former Bachelorette Stars Talking About Secret Double Wedding!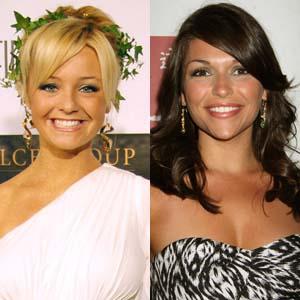 Fairytale endings for reality show couples Jake Pavelka and Vienna Girardi and Ed Swiderski and Jillian Harris may be out of the question, but RadarOnline.com has learned exclusively that a secret double wedding may be in the works for another of the show's foursome!
"Best friends DeAnna Pappas and Holly Durst have been talking about a double wedding with the Stagliano twins for almost a year now and thanks to the break up of Jake and Vienna and Ed and Jillian it looks like they are going to get their TV wedding," a source exclusively told RadarOnline.com.
Article continues below advertisement
DeAnna was originally engaged to snowboarder Jesse Csincsak in season 4 of The Bachelorette but called it quits soon after. DeAnna and Stephen Stagliano were fixed up by his twin brother Michael who was actually on DeAnna's Bachelorette season. As for Michael, he's now dating former Bachelor star Durst.
DeAnna and Holly approached ABC about four months ago with the possibility of a double wedding and they received a "cool response" the source said.
"They were told that ABC would film it, but couldn't guarantee any airtime because they already had their reality TV couples." However, ABC is now re-considering the offer, the source confirmed.
A deal has yet to be finalized.
DeAnna won't have any trouble planning the big day. She co-hosts a Lifetime series called Get Married where she offers wedding advice and bridal tips.