EXCLUSIVE: Court Clash Over Oksana Son's Laptop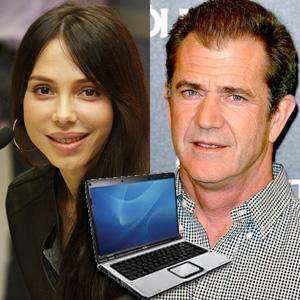 Mel Gibson wants to know what's on Oksana Grigorieva's 12-year-old son's hard-drive, RadarOnline.com has exclusively learned.
We're told lawyers for the embattled star are moving to subpoena Sascha's computer in a bid to determine if Oksana transmitted those infamous audio tapes on the same laptop the child uses for his homework!
Oksana's lawyers will ask the court to stop the move, and will file a motion to quash the request, according to sources connected with the case.
Article continues below advertisement
It's Team Mel's latest attempt to find the source of the leak as part of the former couple's explosive court battle over custody of their infant daughter, Lucia.
As RadarOnline.com has reported, Oksana did not give us the tapes.
But Mel's lawyers have told the Sheriff's Department they have evidence of someone tampering with the audio tape, and those close to the actor believe Oksana distributed them.
As a result, Oksana's laptop and iPhone -- which she used to capture Mel's hate-fuelled rantings -- were turned over to investigators.
EXCLUSIVE NEW AUDIO: Mel Gibson's Twisted Rant Includes Jealous Rage Over Timothy Dalton
However, Sascha's laptop was not.
Sascha, the son of former James Bond Timothy Dalton, is one of his mother's supporting witnesses to what happened on the fateful January night at Mel's multi-million dollar Malibu mansion.
Article continues below advertisement
Sascha was in the bedroom the entire time Oksana's confrontation with Mel took place in which he allegedly pulled a gun and threatened to kill his ex-lover and her children.
Oksana has claimed Mel pulled a gun from the pocket of his short, pointed it at her head and threatened to kill her, Lucia and Sascha, as well as himself, in an apparent murder-suicide plot.
Yet somehow, she was able to run out of the house, wearing her pajamas and barefoot, with the two children.