EXCLUSIVE: Oksana's Decision To Tape Mel Gibson's Vile Rant Smart, Says Source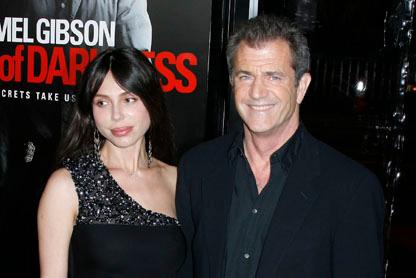 Oksana Grigorieva's decision to tape Mad Mel Gibson's racist and threatening rant will be looked upon favorably in any child protective services investigation, RadarOnline.com has learned.
In the explosive audio tape RadarOnline.com exclusively heard, Mel told Oksana that she could get "raped by a pack of n***ers" and spewed vial names at his ex-lover including "whore" and "psycho c***."
He also threatened to blow up her house, but not before she performed oral sex on him.
Article continues below advertisement
A baby can be clearly heard in the background of the audiotape screaming as the Oscar winner launched into his baby mama.
Mel and Oksana have an eight-month-old daughter, Lucia.
"The fact that Oksana had the presence of mind to get Mel Gibson on tape making threats, shows that she is clearly trying to protect her children," said a source, familiar with child protective services operations.
"Officials from the Los Angeles County Department of Children and Family Services look upon that extremely favorably on behalf of whichever parent is being threatened.
WORLD EXCLUSIVE: MORE Mel Gibson Rants Caught On Tape -- Calls Oksana A "Psycho C***"
"It shows that Oksana is not only fearful for herself, but for her children, and that she took the appropriate action in getting a restraining order.
"The children need at least one protective parent in these type of situations in order for the child not to be taken out of the home by social workers."
The department has not launched an investigation into Mel or Oksana but will monitor the situation closely, RadarOnline.com has confirmed.
Article continues below advertisement
Said the source, "It's highly unlikely that DCFS would need to take any further action above and beyond what Oksana has already done."
The Russian singer, 40, went to court and obtained a restraining order against the Braveheart star, 54, which remains under court seal, before Mel filed a subsequent action against her.
Mel and Oksana became lovers before his divorce from ex-wife Robyn, after 28 years of marriage.
"DCFS is monitoring the situation, as they do in all cases in which a restraining order is issued against a parent and there are minors involved," revealed the source.
RadarOnline.com broke the story about how an enraged Mel rips Grigorieva with a tirade full of racist, sexist and threatening words, in more than 30 minutes of taped conversation.
He threatened, "I am going to come and burn the f---king house down... but you will blow me first."
Published reports say Grigorieva claimed Gibson punched her in the face twice during a fight, leaving her with a concussion, and knocking out two of her front teeth.
EXCLUSIVE: Eyewitness Saw Mel Gibson & Oksana's Explosive Confrontation
While Gibson hasn't denied a conflict occurred, he described it through his lawyer as a loud argument.
The feuding couple is scheduled to face off in court at the restraining order hearing on July 20, 2010. Mel's attorney, Stephen Kolodny, has said his client would attend the hearing.