Exclusive
EXCLUSIVE: Eyewitness Saw Mel Gibson & Oksana's Explosive Confrontation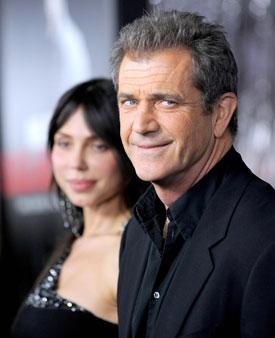 Mel Gibson and Oksana Grigorieva are locked in a bitter dispute over allegations of physical abuse in their relationship and RadarOnline.com has learned exclusively that there was a secret witness to their most explosive confrontation.
The eyewitness could be dragged into the court battle between Mel and Oksana. The former lovers obtained court orders against each other and the documents are sealed. A source close to Oksana told RadarOnline.com that Oksana says Mel punched her in the face, knocking her teeth out.
Article continues below advertisement
Now, RadarOnline.com has learned that there is an eyewitness to the fight Oksana told a source Mel punched out her teeth. "Someone else saw the fight and will explain what happened," said the source close to the situation.
RadarOnline.com can also reveal a fourth person was in Gibson's multi-million dollar home the night in question.
The woman was the nanny to Gibson and Grigorieva's eight-month-old daughter Lucia. However, the nanny was not in the room and is not the witness to what happened.
MORE ON:
Oksana Grigorieva
Article continues below advertisement
Some published reports claim that Grigorieva is alleging Gibson punched her in the face during a fit of rage, giving her a concussion, and knocking out two of her front teeth.
Gibson does not deny that they had a confrontation but has simply described it, through his lawyer, as a loud argument. The pair filed dueling restraining orders against each other.
Although the case is sealed (which means that documents cannot be released to the public), RadarOnline.com was first to report that Gibson filed legal paperwork to restrain Grigorieva from commenting on events, plus a notice about a forthcoming court hearing and a notice of visitation rights and child custody.
The Russian musician filed a restraining order against her ex-lover first, prohibiting him from coming within 100 yards of her.
Gibson has seven children with former wife Robyn, whom he split with in 2009 after 27 years of marriage. Grigorieva has a son with former James Bond star Timothy Dalton.