Exclusive
EXCLUSIVE: Oksana Plans To Sue Mel Gibson For Defamation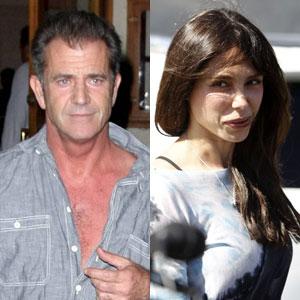 Mel Gibson's problems are about to get even worse.
The Lethal Weapon star's scorned ex-lover, Oksana Grigorieva, is planning to sue Mel over those expletive-laced, hate-fuelled and racist recordings, RadarOnline.com has exclusively learned.
EXCLUSIVE: Mel Gibson Pulled Gun On Oksana When She Tried To Leave His House
It's Mad Mel's fourth legal concern, with the case currently before the Los Angeles County Sheriff's Department, the L.A. District Attorney's Office and a judge overseeing his bitter child custody dispute with Oksana.
Article continues below advertisement
"Oksana plans on filing a suit for defamation and slander," said a source, familiar with the case.
The scandalous saga erupted after the pair filed dueling restraining orders against each other, which included, under seal, a series of explosive audio tapes published exclusively on RadarOnline.com.
In the fifth recording, Gibson was heard yelling "B**ch, c*nt, whore, gold digger" to Oksana.
Similar previous recordings detailed the Braveheart star demanding sex from Oksana, threatening to burn the house down and telling her he hit her because she "f***ing deserved it."
"Oksana's reputation and character has been damaged after what Mel said," added the source.
"He has made her out to be a gold-digger and extortionist, which she is not and she plans to defend herself against his baseless claims."
On Monday, Oksana met with attorney Mark Lane, who authored -- almost a half century ago -- Rush to Judgment, the book that popularized the "grassy knoll" theory absolving Lee Harvey Oswald of guilt in the JFK assassination.
Article continues below advertisement
"Mark Lane is joining the team to defend Oksana," said the source.
Lane, 83, is licensed to practice law in New York and Washington DC.
Lane is also a former member of the New York State Legislature who was also a former campaign manager for John F. Kennedy when he ran for President.
He also has forensic experience, RadarOnline.com is told.
During the rant in which Mel called Grigorieva a "B**ch, c*nt, whore, gold digger", Gibson insisted his stunning charges were "all true" and that she had "f *cking proved it" to him.