Exclusive
EXCLUSIVE: Mel Gibson Pulled Gun On Oksana When She Tried To Leave His House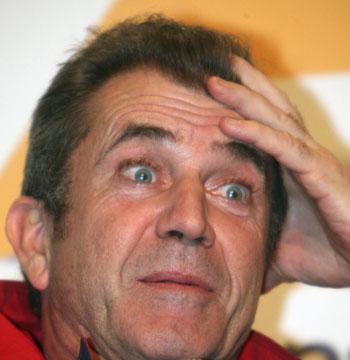 Mel Gibson pulled a handgun on Oksana Grigorieva as she tried to escape his Malibu mansion after their violent January 6 confrontation, RadarOnline.com has learned exclusively.
What's more, he waved the gun in her face and said, "I will show you how to get out of here fast," according to a source familiar with the law enforcement investigation.
Mel is currently being investigated by Los Angeles County Sheriff's Deputies on domestic violence and other allegations.
Article continues below advertisement
EXCLUSIVE AUDIO: Out Of Control Mel Gibson Says He'll Burn Down House After Demanding Sex
RadarOnline.com has released a series of audio tapes featuring Mel threatening to harm Oksana, as well as admitting to hitting her because she, "f**king deserved it."
Now, RadarOnline.com exclusively learned that Mel keeps a handgun in his bedroom at all times.
Law enforcement has been told that in the middle of his brutal physical confrontation with Oksana -- in which she claims he punched her in the face, knocking out her two front teeth -- the actor disappeared briefly, went into the bedroom, and emerged with the gun.
Here's what happened, according to the source:
EXCLUSIVE PHOTOS: See The First Photos of Mel and Oksana In a Passionate Embrace On The Beach
"Oksana claims that after Mel hit her, she escaped outside and ran barefooted to the outdoor area at the home, near the pool," said the source.
Mel suddenly disappeared and went into his bedroom.
"When Mel disappeared, Oksana said she ran back inside to find her car keys so she could leave the house," the source told RadarOnline.com exclusively.
MORE ON:
Celebrity Justice
Article continues below advertisement
"That's when Mel re-emerged holding the gun and began waving it in front of Oksana's face, she has told investigators.
"Oksana said she was panicked and while searching for the keys, Mel came up to her and said, 'I will show you how to get out of here fast,' which she interpreted to be a death threat."
Oksana then grabbed Lucia, fled to her car and escaped Mel's compound, RadarOnline.com was told.
There are no recordings that detail the gun incident and Sheriff's deputies are investigating the claim based off Oksana's word.
But there is physical evidence that corroborates Oksana was punched in the face and her teeth were knocked out.
VIDEO: Oksana's Music Video – Directed By Mel
Mel and Oksana are now battling in court. Their three-year relationship ended earlier this year.