Exclusive
EXCLUSIVE: Oksana Grigorieva In Talks For Dancing With The Stars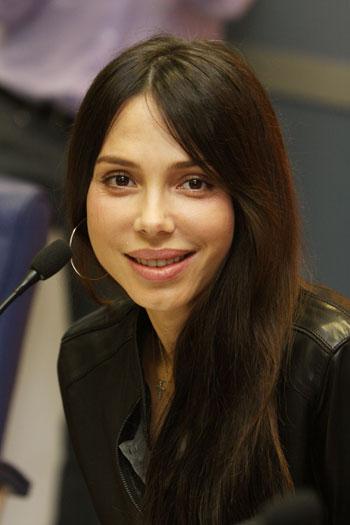 Move over scandal, Oksana Grigorieva could be doing the salsa to Dancing With The Stars.
The woman at the centre of the explosive Mel Gibson domestic abuse scandal is in secret negotiations to appear in the next season of the hit ABC television show, RadarOnline.com has exclusively learned.
EXCLUSIVE VIDEO INTERVIEW: Oksana Pleads With Mel: 'Tell The Truth For The Sake Of Your Daughter'
But according to a source close to the negotiations, the potential deal is now in jeopardy because the person who masterminded the talks, Howard Bragman, quit Team Oksana after just 48 hours as her publicist.
Article continues below advertisement
Oksana, 40, has told law-enforcement investigators Mel, 54, exploded in rage January 6 and punched her more than once as she held their infant daughter, Lucia.
EXCLUSIVE: Oksana's Proof: Her Secret Email To Lawyer Hours After Brawl With Mel Gibson - Read It Here
"Oksana has left on the table a potential appearance on Dancing With The Stars," said a source, familiar with the negotiations.
"It would have given her a lot of money, not violated the gag order and promoted her as a talented musician, all while softening her public image in front of more than 40 million viewers each week."
Bragman refused to comment about his "former client", but his top Hollywood agency, Fifteen Minutes, in known to have represented some of the most successful DWTS contestants in the past, including Apolo Ohno, Mario Lopez, Laila Ali, Cloris Leachman and Marlee Matlin.
However, a source close to Oksana said the Russian musician was never set on the idea given the ongoing legal battle with the Lethal Weapon star.
Article continues below advertisement
"It was lined up for her, with good pay," said one source, who is close to the situation. "It was big bucks compared to nothing."
As RadarOnline.com revealed, Oksana and her family-of-two are cash-strapped after her split from the Oscar-winning actor/director.
She only received a $10,000 check for support from Mel a few weeks ago, after complaining that
Bragman, a top Hollywood crisis manager, became Oksana's second publicist to quit in a week, after a former advisor to President Bill Clinton, Steve Jaffe, quit the post on Wednesday.