Exclusive
EXCLUSIVE VIDEO: Oksana Grigorieva Meets Top L.A. Lawyer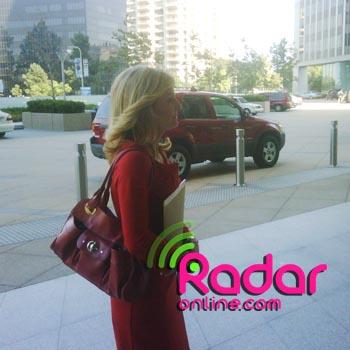 It looks like Oksana Grigorieva's team is about to be bolstered with some high-powered legal bite, RadarOnline.com has exclusively learned.
Lisa Bloom, the prominent domestic violence campaigner, spent Tuesday afternoon in the offices of Oksana's current lawyers, Marci Levine and Manley Fried, in Century City, California.
Oksana was at the meeting, which sources confirmed exclusively to RadarOnline.com was held to discuss the Mel Gibson case.
Article continues below advertisement
Bloom had no comment on the details of the meeting, but told RadarOnline.com what she thinks about the graphic photos and voicemails that have been released. "All I can tell you based on what I've seen publicly that Oksana has been the victim of domestic violence and I think she's got a very strong case and I think Mel Gibson's in trouble. I've said that publically based on what I've seen in the press in RadarOnline and elsewhere."
Oksana has been looking to strengthen her counsel in recent weeks, even meeting with a firm that specializes in employment law - the Russian musician is signed to Mel's production company Icon.
She also met with high-profile attorney Mark Lane, who specializes in defamation and slander.
The latest legal maneuverings follow the release of a graphic photo of Oksana with a deeply bruised eye, taken a day after her January 6 altercation with the disgraced actor.
MORE ON:
Oksana Grigorieva
Article continues below advertisement
The photographs -- which reveal swelling and deep bruises around the 40-year-old left eye -- were snapped the morning after Mel allegedly punched her in the face during an argument at his Malibu mansion.
The altercation allegedly left Oksana with two broken teeth and a concussion.
A law enforcement source has confirmed Mel met with investigators form the Los Angeles County Sheriff's Department on Sunday.