Exclusive
WORLD EXCLUSIVE PHOTOS: Bruised & Battered Oksana Grigorieva After Brawl With Mel Gibson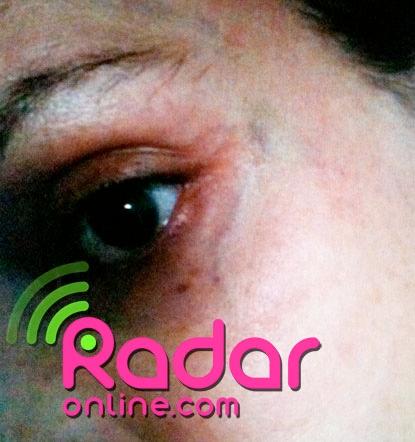 These are the shocking photos that provide powerful evidence against Mel Gibson.
Oksana Grigorieva had deep bruises around her left eye after she claims Mel Gibson punched her in the head twice – and RadarOnline.com has exclusively obtained the blockbuster photographs of her injuries.
These pictures are crucial evidence in the investigation against Gibson on domestic violence charges and provide strong support for Oksana's accusations that Mel punched her as they argued at his home on January 6.
Article continues below advertisement
Oksana told authorities she was holding her baby Lucia when Mel struck her in the mouth and the head, near the left temple.
RadarOnline.com has learned that the photographs were taken the morning after the brutal confrontation. They show obvious bruising around Oksana's left eye and also redness.
The bruising extends from below Oksana's left eye to her forehead. The area around her left eye appears to be swollen.
These never-before-seen pictures are key components of three separate investigations, RadarOnline.com has confirmed.
RadarOnline.com exclusively obtained the evidence photos which are the second set of photos taken to document Oksana's injuries in the aftermath of the brutal January 6 brawl at Mel's Malibu mansion.
They form powerful evidence for Oksana's allegations, especially when coupled with photographs she took of her damaged mouth.
Article continues below advertisement
Oksana also has photographs of her damaged mouth. Those pictures were taken a day before these new ones and it is clear from the documentation that the bruising and swelling around her eye has become pronounced overnight, which is consistent with this type of injury.
The veneer from Oksana's upper left front tooth was snapped off and the veneer on her upper right tooth was cracked. Dental experts agree that only tremendous force could cause that type of damage.
Mel denies hitting Oksana and his lawyers have told cops she tried to extort him.
But these new photos provide Oksana with more powerful evidence against the man she dated for three years, especially when coupled with text messages and audio tapes, as revealed on RadarOnline.com. In addition, Oksana, 40, also has a strong affidavit from her dentist about the extent of her injuries. And, as RadarOnline.com reported exclusively, Oksana was diagnosed with a concussion after visiting Dr. Arthur Gordon, who could now be a powerful witness for her.
Article continues below advertisement
The Los Angeles County Sheriff's Department has these images as part of its investigation into the actor for domestic violence.
It was also included in Oksana's declaration to the court in the estranged couple's vicious custody battle over their eight-month-old daughter Lucia — and was also presented to the Department of Children and Family Services, RadarOnline.com has learned exclusively.
Oksana has told police that after Mel punched her she fell back on the bed, while holding their baby. She says he then choked her with his forearm, pressing it into her throat and putting his free hand over her mouth.
As RadarOnline.com revealed, two days after the brawl, Oksana told a doctor she started experiencing excruciating headaches after the incident.
When questioned why she did not seek immediate medical treatment, RadarOnline.com has learned Oksana told authorities: "I was unable to go a hospital that night because I had no one to care for the children."
RELATED: ALL OF THE MEL GIBSON TAPES