Disgraced 'Making A Murderer' Prosecutor's 30 Raunchy Sexts To Domestic Violence Victim Revealed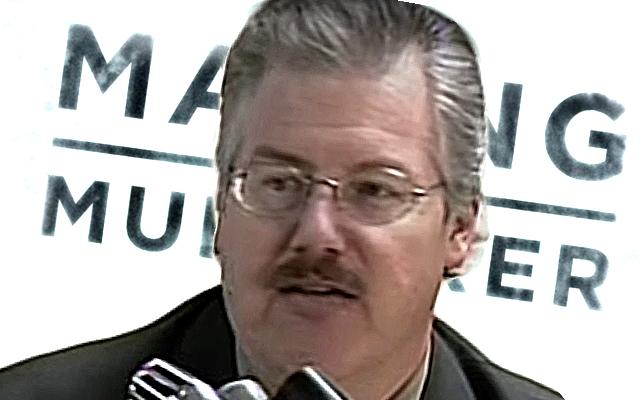 Just two years after leading jurors to convict Steven Avery of murdering Teresa Halbach, Wisconsin prosecutor— and now, Making A Murderer villain— Ken Kratz became embroiled in his own legal nightmare.
As MAM filmmakers reported, Kratz, 55, was accused of sexting a 26-year-old domestic violence victim involved in one of his cases. Now, RadarOnline.com can exclusively reveal the former Calumet County District Attorney's 30 raunchy text messages to the young woman, sent over the span of three days in October 2009.
Article continues below advertisement
According to U.S. District Court documents stemming from the woman's civil lawsuit against him, Kratz started off by sending a friendly text.
"It was nice talking with you! Feel free to text me (between 8 and 4) if you are bored. You have such potential. See ya. KEN (your favorite DA)." He wrote on the afternoon of October 20.
The next morning, Kratz fished for attention.
"No text yet today? I'm feeling ignored. Are you even up yet?" he asked.
When the woman, referred to in the documents as S.V., responded that she was sick, the attorney, then married to Mary Alice B. Kratz, 52, offered to bring chicken soup and a margarita to her home.
S.V. declined the offer. But just minutes later around 11:30 am, his messages turned sexual.
"I know this is wrong. I am such an honest guy, and straight shooter...but I have to know more about you," he wrote. "…Are you the kind of girl that likes secret contact with an older married elected DA…the riskier the better?"
Article continues below advertisement
When she shut down his advances, Kratz refused to give up.
"Still wondering if I'm worth it? Can I help you answer any questions?" he asked.
"Why would such a successful, respected attorney be acting like he's in 7th grade? Are you worried about me?"
When S.V. said she wouldn't lie; she was concerned about his behavior, he continued to pepper her with outrageous texts.
"You should never lie to me! Obviously we have talents and this to offer that the other is intrigued by, or you would have called me creepy. You wanna accept."
He also commented that his fantasy sexual relationship would last the length of the trial against S.V.'s ex-boyfriend, whom Kratz was prosecuting at the time.
"It would go slow enough for Shannon's case to get done. Remember it would be special enough to risk all," he wrote on October 21 around 3 pm.
When S.V. neglected to respond, Kratz trashed her— despite her fragile state as a longtime victim of unspeakable domestic violence. (Her former boyfriend was convicted of strangulation and suffocation in April 2010.)
Article continues below advertisement
"Hey..Miss Communication, what's the sticking point? Your low-self esteem and you fear you can't play in my big sandbox?"
"You may look good at first glance, but women that are blonde, 6ft tall, legs and great bodies don't like to be shown off or to please their men!"
When the hurtful digs failed to impress her, Kratz took a different approach: showing off.
"I'm the atty. I have the $350,000 house. I have the 6-figure career. You may be the tall, young, hot nymph, but I am the prize!"
He ended by assuring her she wouldn't be his mistress, despite his marital status.
"I would not expect you to be the other woman," he said on October 22. "I would want you to be so hot and treat me so well that you'd be THE woman! R U that good?"
Kratz certainly was not that good. He settled the sexual harassment lawsuit with S.V. out of court on February 14, 2013, but not before resigning from office in disgrace.
RadarOnline.com has also learned that Kratz's wife Mary Alice filed for divorce in December 2009, just two months after he sent the sexts.
Five years after the scandal, Kratz was hit with another wave of backlash when his questionable handling of the Avery case was exposed on the Netflix docuseries.