REVEALED! Joan Rivers' Top Secret Medical File Suggests Signs Of 'Breathtaking' Death Cover-Up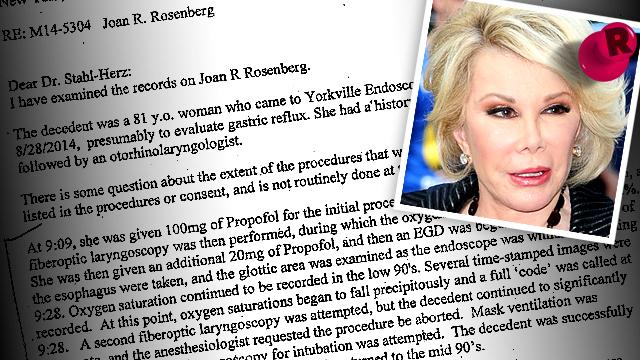 The truth behind Joan Rivers' death may finally be resolved! RadarOnline.com can reveal that private investigator claims there may have been a massive cover-up surrounding her death -- and official records hold the key to unveiling what really happened.
RadarOnline.com's probe into the Hollywood icon's tragic death has unearthed bombshell evidence about the bungling doctors who made fatal mistakes in Rivers' care.
Article continues below advertisement
RadarOnline.com obtained two official reports on Rivers' death containing hundreds of pages of documents — and they expose a shocking web of secrets and lies that a private investigator says was spun by the government officials and medical experts involved!
What's more, world-renowned forensic pathologist Dr. Cyril Wecht has claimed to be stunned by the clear-cut case of "negligence" by the doctors who allowed 19 critical minutes to pass before they began performing CPR on 81-year-old Rivers.
"You have gross negligence here. ...This is a death that should not have occurred," he blasted.
Danno Hanks, a respected private investigator who has acted as a consultant to the DEA and FBI, and reviewed the documents at RadarOnline.com's request, added: "It looks like a cover-up!"
"Over and over again, I'm looking at pages filled with stone-walling by the doctors, the center and its staff, missing data logs, suspicious IT personnel and more," noted Hanks. "It's breathtaking."
Article continues below advertisement
Taken together, the alleged fabrications, manipulations and obfuscations suggest a wide-ranging conspiracy that has successfully shrouded the facts of what happened on that deadly Aug. 28, 2014, when Rivers underwent a procedure at the Yorkville Endoscopy clinic — until now.
After reviewing reports filed by New York's Department of Health and Human Services and the New York City Medical Examiner's Office, RadarOnline.com's investigation revealed glaring irregularities, including these:
• No autopsy was ever performed on Rivers' body following her death on Sept. 4, 2014, when she was disconnected from life support at Mount Sinai Hospital in New York. Dr. Wecht told RadarOnline.com the medical examiner's office should have overruled the family's decision not to have an autopsy performed because of their Jewish faith.
• The ear, nose and throat doctor who performed two unsanctioned procedures on Rivers, Dr. Gwen Korovin, was never listed in the medical record — and her identity may have remained a mystery except for a random note penned by the anesthesiologist! Korovin denies any wrongdoing.
Article continues below advertisement
• When contacted by the city medical examiner following Rivers' death, Dr. Korovin initially ducked calls. When she finally responded, it was only through a lawyer.
• The head of Yorkville Endoscopy, Dr. Lawrence Cohen, told the medical examiner he performed only one procedure when, in fact, he performed two, according to the medical records obtained by RadarOnline.com.
As RadarOnline.com reported, Rivers' daughter, Melissa, sued the clinic and doctors in January, declaring: "The level of medical mismanagement, incompetency, disrespect and outrageous behavior is shocking and, frankly, almost incomprehensible."
According to the medical reports obtained by RadarOnline.com, Rivers' doctors "failed to identify deteriorating vital signs."
Renowned defense attorney Tony Brooklier explained: "There's certainly enough; the Manhattan District Attorney is likely taking a very serious look at it."
Michael Cardoza, a defense attorney who has tried over 40 murder trials, added: "There certainly should be an investigation into whether this is criminal negligence!"
When contacted by RadarOnline.com, the Manhattan District Attorney's Office refused to comment on whether it is conducting a criminal probe.
Korovin and Cohen also did not respond to RadarOnline.com's request for comment.