Presidential Election 2016
In The Hot Seat! Congress Grills FBI Director Over Hillary Clinton Email Scandal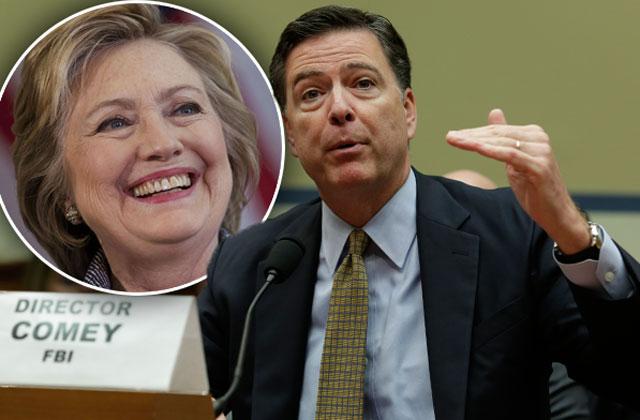 UDPATE, 2:30 ET:
Rep Jason Chaffetz asked, "Did Hillary Clinton give non-cleared people access to classified information?"
Comey answered, "Yes."
UPDATE, 2 ET:
The hearing addressed Clinton's email of a nonsecure fax to Jake Sullivan in 2011. Asked whether it was a classified fax, Comey said, "Correct."
Comey said Clinton wanted to "make it into a non classified document" by removing the heading.
UPDATE, 1:30 ET:
Article continues below advertisement
Comey revealed that hacker Guccifer actually never gained access to Clinton's server, saying, "He admitted that was a lie."
UPDATE, 1 ET:
Asked whether Clinton complied with the Federal Records Keeping Act, Comey revealed, "I don't think so ... in some respects, no."
He also admitted he believed Clinton's server may have been hacked. "There's no doubt it would have exposed information that was classified," he said. Her team still denies a breach occurred.
UPDATE, 12:30 ET:
Comey reaffirmed that he could establish that Clinton was extremely careless but couldn't prove there was criminal intent. He said, "She was negligent. That I can establish."
He also admitted that Clinton may have deleted important emails from her personal server, revealing, "There's no doubt that there were work-related emails that were removed electronically from the email system."
Article continues below advertisement
++++
James Comey is in the crosshairs this morning, facing down ongressional Republicans who are suspicious of the FBI director's decision not to recommend charges against Hillary Clinton for mishandling classified information through her private email server.
Rep. Jason Chaffetz, who previously said Clinton "violated the law" with the use of her server, told Comey he was "mystified" by the decision and said, "it seems that there are two standards, and there's no consequence for these types of activities and dealing in a careless way with classified information."
While Comey previously admitted there was evidence proving Clinton's actions were "extremely careless" in the handling of highly classified information, Republicans are not pleased with the ultimate result: Clinton walking free.
This morning, Comey has so far made it clear that the FBI had "no basis to conclude that Clinton lied to the FBI," according to Fox News, and he has affirmed that Clinton was interviewed by "real pros" in the FBI. Comey's assertion has been that even though Clinton was negligent in her management of classified information, she did not have criminal intent.
One possible excuse? Comey said "it's possible" Clinton didn't know the "C" marking on emails meant classified. The FBI director also confirmed the 3 emails "marked" classified were not properly marked.
Rep. Gerry Connolly, a democrat from Virginia, has called the hearing "political theatre," saying congress is trying to discredit Comey.
Stay here for live updates.