Famed Attorney Acknowledges He Cannot Rule Out 'Possibility' Bill Clinton Was Involved In Orgy Island Sex Romp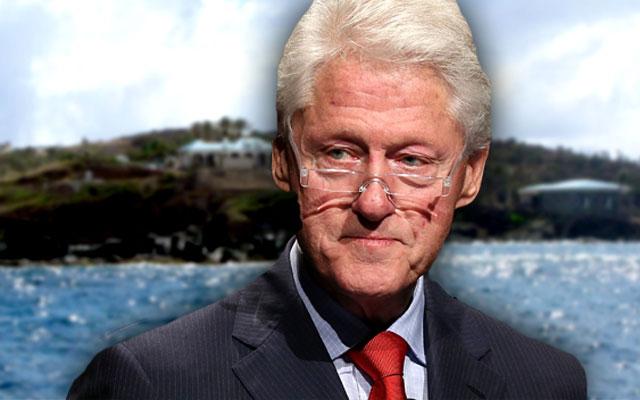 Hillary Clinton's presidential campaign is about to be rocked by yet another bombshell thanks to her horndog husband, Bill: RadarOnline.com has learned that high-powered attorney Alan Dershowitz has acknowledged in a sworn deposition that he cannot rule out the "possibility" the former president took part in a depraved sex romp with under-age girls on pedophile Jeffrey Epstein's orgy island!
Epstein's alleged sex slave Virginia Roberts first accused Clinton of visiting Epstein's notorious island near St. Thomas in an affidavit filed in January. She's suing the US Justice Department for how they handled Epstein's plea deal. Her attorneys are suing Dershowitz for defamation, and now, Dershowitz is addressing the claims head-on in his own deposition in that case, taken on October 16.
Article continues below advertisement
According to a deposition transcript reviewed by RadarOnline.com, Dershowitz recalled that Roberts had previously "described in great detail a dinner with Bill Clinton and two underaged Russian women who were offered to Bill Clinton for sex," an incident she said occurred in 2002. And while he insisted that he believed that to be a "lie," he acknowledged that he can't prove it.
"There is the possibility, which I don't personally believe to be true, that he was on the island," Dershowitz said. "There was the possibility, which I don't believe to be true, that he was on the island when orgies were taking place. There was the possibility that he was on the island and observed an orgy, and there was the possibility that he was on the island and participated in an orgy."
Dershowitz said he's doing everything he can to find out the truth about what really happened. "My attorney in New York, Louis Freeh, the former head of the FBI, has made a FOIA request for all information that would conclusively prove that Bill Clinton was never on Jeffrey Epstein's island …," he revealed.
However, that investigation has turned up no information exonerating Clinton just yet.
"FOIA requests take a long, long, period of time," Dershowitz said. "So they were neither denied nor were they given to us. They are very much in process."
Article continues below advertisement
So far, he claimed, "based on my research … Bill Clinton had almost certainly never been on that island." Roberts has denied having sex with Clinton, and said she never saw him have sex with anyone else, but insists he was on the island.
As RadarOnline.com reported, Roberts also claimed in an affidavit that she had sex with Dershowitz "at least six times," beginning when she was about 16, and that he flew on Epstein's plane with underage sex slaves — claims Dershowitz has previously denied, and refuted in the deposition.
Meanwhile, flight logs obtained by RadarOnline.com also show that Clinton flew on Epstein's private Boeing 727, which Roberts has claimed had a bed used for high-altitude orgies.
Roberts and three other Epstein victims are involved in a lawsuit against the U.S. government over a sweetheart plea deal federal prosecutors gave Epstein to end the FBI sex trafficking probe in 2008. They claim the non-prosecution agreement, which gave immunity to Epstein and many of his friends, was illegal because prosecutors failed to confer with the victims as required by law.
Instead, Epstein spent 13 months in a Florida county jail for two relatively minor underage sex convictions. He is also required to register as a sexual offender.
Roberts and another Jane Doe were barred from the case in April, but two other defendants remain.
Story developing.