Exclusive
'Alaskan Bush People' Lies! Brown Family Secretly Living In Hotel, Locals Claim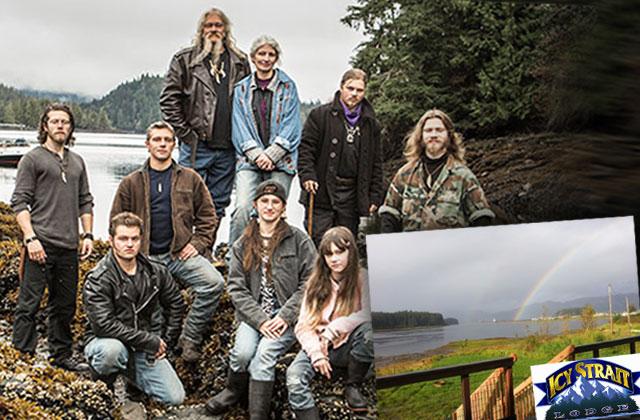 According to Alaskan Bush People patriarch Billy, the Browns have lived in the Alaskan wilderness for 30 years. His seven children with wife Ami were all "born and raised wild," the family's reality show website claims.
However, the eccentric family may have been fibbing to fans for years. Two locals exclusively tell RadarOnline.com that Billy, Ami and the whole gang actually live in a cozy Hoonah, Alaska, hotel!
Article continues below advertisement
Neighbors Jay Erickson and Becky Hunnicutt claim they see the Browns coming and going from the Icy Strait Lodge at all hours.
"All of the boys have their own rooms," Hunnicutt tells RadarOnline.com.
Despite the fakery accusations, the Browns haven't tried to hide their cushy digs. Billy's oldest son Matt, 33, even hangs out at the lodge's bar and restaurant.
According to a separate source, Matt — who as RadarOnline.com exclusively reported, was once arrested for DUI after having sex with a girl he met in a Juneau bar— is ready and eager to hook up with girls on his home turf.
"Matt is very good with the ladies, charming and funny. A natural flirt," an insider tells RadarOnline.com. "He holds nothing back when trying to get up a girl's skirt. He even has memorized pick up lines!"
Crew members from the family's Discovery Channel reality show often kick back at the Icy Strait as well, the source adds.
At one point, Erickson and Hunnicutt claim, Matt lived with some of the crew at the nearby Misty Bay Lodge, but he has since returned to the Icy Strait.
Article continues below advertisement
The Browns' bush "home," Browntown, is allegedly just a front for filming.
Insiders claim the clan has only spent the night in the makeshift village while cameras were rolling.
RadarOnline.com's report on the family's secret home is just the latest fraud accusation to hit the Browns. Billy and second oldest son Josh, 31, recently served 30 days on house arrest for falsification charges after officials claim the entire clan spent much of their time between 2009 and 2012 in the lower 48 states, not Alaska. (They pled guilty to lying on government applications for dividend checks.)