'Alaskan Bush People' Star Matt Brown Arrested For DUI Following Wild Night Of Partying & Sex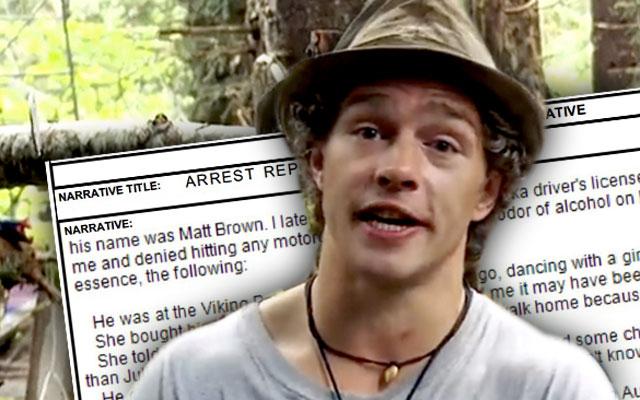 The Alaskan Bush People's Brown family may claim to live in the untouched wilderness, miles and miles from everyday civilians, but that doesn't mean they can't down shots at bars, hook up with female strangers, shop for late-night munchies in Wal-Mart … and get arrested for driving under the influence.
Billy and Ami Brown's oldest son Matt, 33, was arrested for DUI and leaving the scene of an accident after a long night of partying and sex in Juneau, Alaska, RadarOnline.com can exclusively reveal.
Article continues below advertisement
According to the Juneau Police Report exclusively obtained by Radar, Matt was pulled over by cops after witnesses claimed he hit a parked motorcycle with a 1986 Volvo in a Wal-Mart parking lot at 4:45 am on August 30, 2013.
READ THE SHOCKING POLICE REPORT
"He was nervous, jumpy, and talked real fast," responding officer Terry Allen noted in his report, adding that the reality star, who "smelled strong like a homeless person," denied being involved in a crash, drinking or doing drugs. "I asked Brown why he was acting weird, and he said he had Attention Deficit Disorder."
Matt admitted he didn't own the car, instead claiming it belonged to a girl he had just met at the nearby Viking Bar.
"He said the girl had been hitting on him real hard and they hooked up for sex," the officer continued. "Brown did not know the girl's name, phone number, or where she was."
He insisted the woman let him borrow her car in order to pick up chips at Wal-Mart for a snack.
The officer and the suspect then met up with a second cop in the discount store's parking lot, where onlookers said the accident occurred.
Article continues below advertisement
"I smelled a slight odor of alcohol on Brown's breath as I talked to him," officer James A. Esbenshade wrote in his report.
In a "very animated" tone, the oldest Brown son told the new cop he was drinking "2 or 3" vodka shots and dancing with the girl he had just met at the nearby Viking Bar, perhaps named Julie.
Again, he vehemently denied hitting the motorcycle.
The Discovery reality star flunked the standardized field sobriety test administered in the parking lot, failing the horizontal gaze nystagmus test, the walk and turn test and the one leg stand test.
He was handcuffed and brought to the police department headquarters for processing.
On his third attempt, Matt blew a .150 blood alcohol level on a Breathalyzer test. According to Loyola Marymount University, drinkers begin to blackout and vomit when they reach this number. Matt was clearly a textbook case, as he "attempted to throw up in a waste basket" during the breath sample process, police noted.
Article continues below advertisement
He was charged with DUI and leaving the scene of an accident, and thrown into jail.
He was later bailed out by his 62-year-old father Billy for $250, Juneau District Court records state.
Represented by a public defender, Matt was sentenced to three days in jail and 18 months probation in February 2014, a court spokesperson revealed to Radar.
Matt isn't the only family member with legal issues. Billy and his second oldest son Joshua, also known as "Bam Bam," 31, recently pleaded guilty to falsification for lying about their Alaskan residency on government applications.
Authorities claim the father/son duo largely lived out of state from 2009 to 2012, but pretended they were full-time Alaskan residents in order to receive dividend checks.