Exclusive
Extreme Hoarder Forced To Address Her Issues & Clean Up Unbelievably Filthy Home Or Lose Custody Of Kids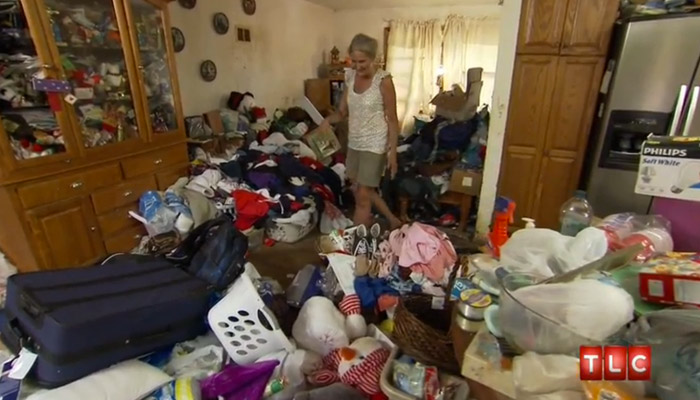 Hoarding can destroy the lives of those afflicted by the disorder — but, for one New Jersey mother, her extreme hoarding compulsion may result in her children's lives being destroyed too, as authorities threaten to remove them from their filthy, trash crammed home and place them in care.
Karen's hoarding has become so bad that the house she lives in with her two young children is filled to the rafters with rotting garbage, discarded clothing, useless trash and clutter - as evidenced in a shocking clip from the upcoming episode of the TLC hit show, Hoarding: Buried Alive - obtained exclusively by RadarOnline.com.
Article continues below advertisement
Karen gives a tour of her hazardous, trash-packed home, which has no working electricity, an unbelievably dirty broken dishwasher, still full of filthy unwashed dishes, and four bedrooms crammed full of waste and junk.
"I feel like I'm trapped inside," Karen's son David heartbreakingly admits about having to live in such squalor.
"My house is like a jungle because there is a lot of stuff in the jungle and I think there's a lot of stuff in our house."
David's older brother, Joseph, 14, also describes the dire living conditions, saying the home is "filled with clutter, most of it we don't really need or want. There are stacks and piles of garbage."
He goes on to share that even when his mother does attempt to address the situation and clean up, it never takes long before the house reverts back to its previous filthy state.
"When my mom tries to clean the house a lot of it will come right back," he says.
Article continues below advertisement
As is typical with many extreme hoarders, Karen suffers from depression and is struggling to come to terms with the tragic loss of loved ones - the 54-year-old has lost two husbands and a child.
However, the single mom is forced to address her issues head on after Child Protective Services show up and presented her with an ultimatum — clean up the home once and for all or lose custody of David and Joseph.