Woman Who Threw Acid In Her Own Face And Lied About Being Attacked, Vows: 'I'm A Good Person'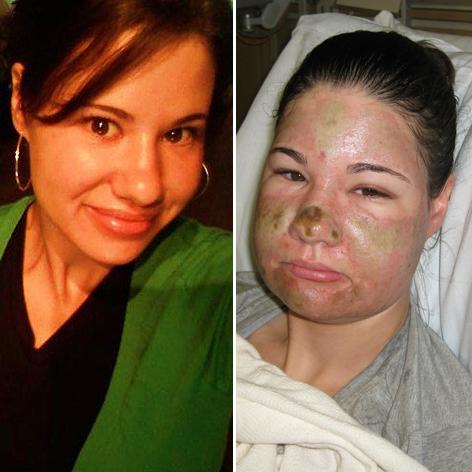 At first her case prompted an outpouring of grief and sympathy -- but when her lies were exposed Bethany Storro faced an outraged nation.
Now, the woman who claimed a stranger threw acid in her face – before admitting her horrific injuries were self-inflicted – has spoken out about why she did it and apologized for her actions, and RadarOnline.com has video and all the details.
"I made a mistake and I hope that people will forgive me and give me a chance because I'm a good person. I promise. I am," The 30-year-old told Good Morning America during an interview Monday.
Article continues below advertisement
Storro gave her first tearful interview more than two years after she appeared before the media with her horrifically burned face covered in bandages.
Back in August 2010 she claimed that an African American woman assaulted her outside a Vancouver, Washington Starbucks.
"Hey pretty girl. Want something to drink?" She claimed the attacker said just prior to drenching her face with acid.
After an investigation police later realized that Storro was lying and that there was no such attack.
In Storro's upcoming memoir – Facing The Truth – she claims she had an undiagnosed case of body dysmorphia disorder and that, because of this, she doused her own face in acid.
"In the mirror I saw a distorted monster. It was like my eyes were gouging out, my face was just…terrible," Storro explained.
"I held the acid up to my face and I could feel it burning through my skin…melting into my face.
"And I was just so happy."
Article continues below advertisement
Storro said that she had intended to drink the acid too but didn't because the pain became unbearable.
"So I'm freaking out like: 'This isn't working. What am I going to do now?'" She said about her botched suicide attempt.
Storro explained that she then drove down the street screaming for help. People surrounded her and she was asked if she had been attacked.
"I was clueless," she said. "I said: 'Yes', and that's when it all began."
Storro – who did the interview while wearing a clear mask to protect her face, which is still healing – admitted she enjoyed the media attention she initially received: "In that moment I felt like I was cared for and I mattered," she confessed.
Pakistani Woman Commits Suicide After Becoming The Face Of 'Acid Terrorism'
Thankfully, she said she feels better now about her physical appearance. "I'm still me. I'm still the same person but better," she said.
"I'm getting better every day."
|
|