VIDEO: Woman Admits Throwing Acid On Her Own Face - But Why?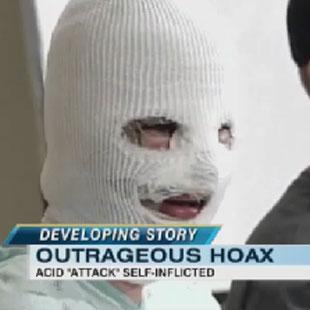 Many unanswered questions Friday remained in the strange case of Bethany Storro, the 28-year-old Washington state woman who disfigured her own face after dousing it with acid, then lied to police and the media by saying she was the victim of a vicious attack.
Watch the clip on RadarOnline.com
Storro initially claimed the incident occurred August 30 when an African American woman assaulted her outside a Vancouver, Washington Starbucks, asking her "Hey pretty girl, want something to drink?" before drenching her face with the toxic chemical.
Article continues below advertisement
After a groundswell of support from the community -- and even a planned Oprah Winfrey appearance, that's since been nixed -- Storro told investigators Thursday she'd made up the story about the attack, and admitted she threw the acid in her own face.
"She is extremely upset, she is very remorseful," Vancouver police Commander Marla Schuman told Good Morning America Friday.
EXCLUSIVE: Fooled Police Warn Tila Tequila On Shocking Suicide Hoax
"Truthfully there were red flags about her story from the beginning. We weren't quite as shocked she'd lied -- I think we were in more shock that somebody would be in this state of mind to harm herself this way."
Storro's story was murky to police, Schuman said, as there were a number of "small things that added up to a picture we would not normally see."
Article continues below advertisement
Schuman said the small community that had rallied around Storro is "a mixed bag" of opinions in the wake of the woman's revelation, as some are concerned for the woman, while others are angered by her actions and the massive time and energy wasted by police and community in the wake of the hoax.
Dead Baby Comes Back To Life In Coffin?
"There are potential charges right now," Schuman said, based on the false reports Storro gave to police, and charity funds that were set up in her name under a false guise.
Storro, who has no criminal history, was currently staying with her parents, Schuman said.