Exclusive
EXCLUSIVE: Fooled Police Warn Tila Tequila On Shocking Suicide Hoax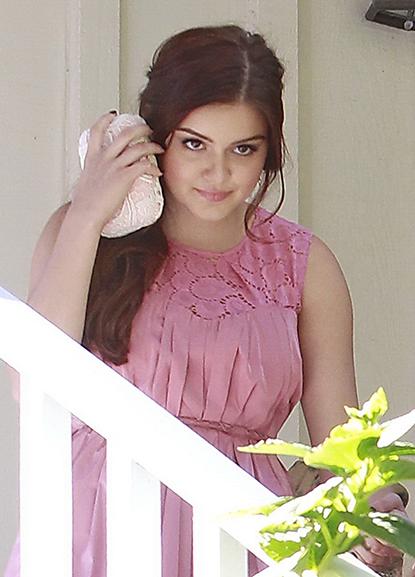 Tila Tequila's fake suicide stunt caused a spectacular waste of Los Angeles Police Department resources, RadarOnline.com is reporting.
Several police, paramedics and fire rescue personnel were involved in a frantic search for Tequila over the weekend, after the former reality TV star posted a video on her website of her bloody arm -- supposedly sliced at the wrist.
The full-scale search spanned several counties and lasted up to five hours.
Article continues below advertisement
The search was sparked after a series of calls to 911 from concerned readers of Tequila's blog, RadarOnline.com has learned. The Web site Tilaresistance.com broke the news of the drama and documented it as it was unfolding.
Police confirmed to RadarOnline.com that officers from the North Hollywood Police Station were assigned to a "welfare check" on Saturday.
However, an LAPD officer would not elaborate on the outcome of its investigation and whether Tequila faced further charges.
As RadarOnline.com reported, the incident turned out to be nothing more than a distressing hoax.
Readers at Tilaresistance.com, a vocal group not happy with her antics, still tried to help her, believing she was in distress. As one poster on the site wrote: "I may not like her, but I don't want her to die alone."
RadarOnline.com confirmed that representatives from Celebrity Rehab with Dr. Drew led authorities to Tequila.
Article continues below advertisement
She has signed on for the fourth season of the VH1 series.
Police contacted Pasadena Recovery Center, where Dr. Drew serves as the resident medical expert and the show is filmed, in an attempt to find the 28-year-old.
EXCLUSIVE: Celebrity Rehab 4 Stars Filming
Tequila was eventually located at her suburban Los Angeles home around 2.30pm PT.
When police arrived, realizing her stunt had been exposed, Tila turned to Twitter.
"Peace out u (sic) ignorant f---. Not my #TilaArmy but whomever said I'm commiting (sic) suicide! F--- OFF! Why would I??? I got mad $$$ & LOVE! STFU," she wrote.
WORLD EXCLUSIVE VIDEO: Tila Tequila's Emotional Goodbye To Casey Johnson
Police questioned Tequila for more than an hour before concluding the incident wasn't real.
"Tila assured police she was OK," said a source, familiar with the operation.
Article continues below advertisement
"Police went through her apartment and while they didn't indicate what, if anything, they found, Tila was spoken to and advised that it was a stupid stunt... she was warned."
EXCLUSIVE: Tila Tequila's Drug Problem: Snorting Ambien
The concern was sparked when Tequila posted footage on her Web site showing a bloodied arm and blaming the wound on "Jane," one of her alternate personalities.
"I blacked out and now that I just woke up from excruciating pains all over my body, there was blood and dope everywhere!"
"Jane" also allegedly slashed Tequila's arm with glass shards.
One of the informants who raised the alarm, Carrie, told RadarOnline.com she and at least one other person both contacted the LAPD and Los Angeles County Fire Department.
EXCLUSIVE: Tila Tequila Will Reveal Ecstasy Use On Show
"I did not call in a suicide attempt, I called in a welfare check because if she really had injured herself and destroyed her apartment in a crazed attempt at attention, then I felt she was a danger to herself," said Carrie, who did not want her last name to be identified, for fear Tequila would seek retribution.
"My fear was that she would go way too far in her attention seeking shenanigans and really hurt herself."
Carrie said she now believed the incident was a made-for-publicity moment as Tila tries to promote herself.
"The fact this was all a hoax to Tila... and that people tried to help her is astounding," Carrie said.
"People might not like her, but we don't want her dead... and this woman needs help."