Tila Tequila Posts Shocking Video Of "Suicide Attempt"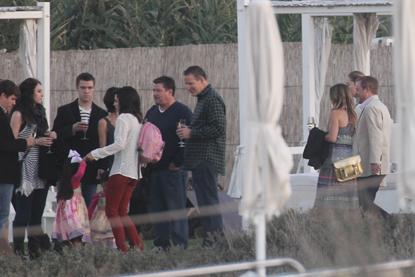 Tila Tequila's downward spiral has hit a new low. The deeply troubled former reality star posted a video on her website of her bloody arm that supposedly had been sliced at the wrist, RadarOnline.com has learned.
Tila blamed her "multiple personalities" for the incident; specifically it was "Jane" who tried to do her in Friday night.
Tila wrote:
"I don't know what happened. People don't believe I have multiple personalities but this morning the last thing I remember was falling asleep cuz I was so tired. I blacked out and now that I just woke up from excruciating pains all over my body, there was blood and dope everywhere! She is evil! She single handedly smashed and broke EVERYTHING in my bedroom! Both nightstands, the bed lights, all of the surround sound system, my tv boxes and there's glass everywhere. There's even chunks of meet coming out of my arm from the deep slits from her slicing up my arm from all the broken glass! My arm meet from inside is starting to bubble up and seep through the cuts. This is so f***ed up. Now that I'm awake, she just left but I have no recollection of what happened to me. I'm just crying right now hiding in my toilet...my entire room is in shambles. All the new furniture is broken and glass all over the bed. I don't know what's happening! Little Tila."
Article continues below advertisement
Tila's latest drama was viewed as a stunt by many.
She was scheduled to be part of Celebrity Rehab 4 but production on Dr. Drew Pinsky's VH1 show has been put on hold until July, and Tila's participation is now unclear.
Celebrity Rehab Filming Postponed
RadarOnline.com also broke the story that Tila's abuse of prescription drugs includes snorting the prescription sleeping pill Ambien.
What fans and friends Tila has left are all now hoping she'll get help before it is too late.