Why Anderson Cooper Thinks Other Famous People Should Not Be Forced To Come Out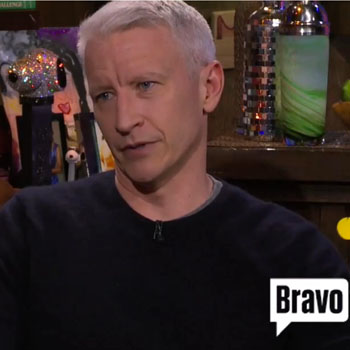 Although Anderson Cooper finally publicly confirmed last summer that he's gay after years of speculation in the media, the famed globetrotting journalist and talk show host says he does not believe other famous people in the closet should necessarily be forced to follow his lead.
The sensitive topic came up during Cooper's appearance on Bravo's Watch What Happens Live on Monday night, when affable host Andy Cohen, himself openly gay, stated , "There are still several well-known people in the media who are in the closet…I wonder if your opinion has changed about whether those people should come out or not?"
Article continues below advertisement
"I mean look, it's a personal decision that everyone has to make for their own reasons," Cooper replied.
"Obviously, I think we're all better off with greater visibility, so I would encourage people to do what they're comfortable with, but no, my opinion hasn't changed. Look, I'm pretty understanding of where people are at, and people are at different places in their lives. But there's a bunch of people whom I'm surprised have not been more forward, and you know given their position and the extent to which they're forward about other aspects about their lives," Cooper added.
When fellow guest, comedic actress Wendi McLendon-Covey, jokingly prodded Cooper to look right into the camera and name names, the Silver Fox let out his trademark giggle.
Cohen then jokingly urged people to keep watching until 11:30 p.m. because "we're outing people tonight!"
Watch What Happens Live airs Sunday thru Thursdays @ 11/10c on Bravo.