Let's (Not) Be Frankel: Kandi Burruss Says Bethenny's Messy Split Provoked Her Must-Have Prenup With Todd Tucker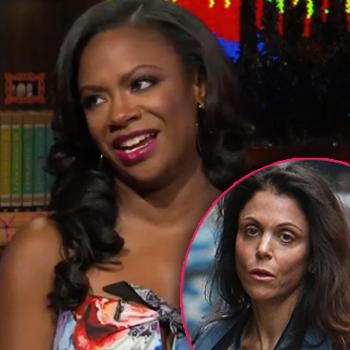 Article continues below advertisement
As we previously reported, on Sunday's edition of the music-maker's spinoff Kandi's Wedding, Tucker stormed off on the eve of their wedding after finding out that in the prenup, among other things, Burruss would require him to move out of her house within 30 days if they decided to divorce.
As RadarOnline.com readers know, Frankel and Hoppy lived in the same New York apartment during their split and bitter custody battle over their daughter.
"When you get divorced sometimes that can be a long dragged out process," Burruss told Cohen. "I remember talking to Bethenny recently and she was saying how she hated the fact that she had a prenup but they didn't have any term where he had to get out, so they were still in the same house for a long time."
Cohen interjected about Frankel's ex-husband, Hoppy, "He might still be there, as a matter of fact."
Article continues below advertisement
Burruss added, "That's why attorneys try to put those stipulations in there."
She said she also wanted fans to know that Tucker is a stand-up guy: "I bought the house. But he doesn't want the house."
Watch the video on RadarOnline.com
Also during her WWHL appearance, Burruss confided to Cohen she's really good friends with another RHONYC cast member, Ramona Singer.
Burruss said, "Since I first met her a long time ago, we exchanged information and then she actually kept in touch over the years."
But most of the questions on Cohen and fan callers' minds were about Burruss' prenup and her relationship with meddling Mama Joyce.
Cohen asked Burruss about the shocking prenup clause that Tucker would get nothing if she died, but the housewife replied that that was eliminated from the final agreement.
"Well, there were a couple of extra things in there, maybe one or two, but I removed that," said Burruss, who married Tucker April 4. "Overall, there was nothing major we couldn't just change like the one or two things he said was a real problem.
Article continues below advertisement
"But the only things his lawyer kept saying were things that were financial. I'm like, OK, we were supposed to be on the same page. What is he talking about?"
One caller asked Burruss why she didn't demand respect from her mom regarding her marriage to Tucker.
"People think I don't challenge her and that's just not true," she said.
Burruss pointed out during an on-camera argument between Mama Joyce and Tucker's mom Sharon, Joyce was mad because "I did not allow her to come to the house one time.
PHOTOS: The Bravo Curse: 10 Reality Stars Who Made All The Wrong Headlines After Appearing On TV
"I felt like she was going to come over and make Todd uncomfortable and she's been holding a grudge about it ever since, like, oh, I can't come to your house."
Mama Joyce gets so extreme, Burruss admitted, that they go through many tense moments.
"We stop talking for days at a time. Right now, we haven't been talking for a couple days. It was something about my dad. It gets to be petty sometimes, so that's why I'm like, we just need a break."
Article continues below advertisement
Burruss laughed, "She must be waiting on me to call her because she never wrong!"
Burruss also shared throwback photos of Joyce in which the feared reality TV mother showed off ample cleavage in a strapless white dress!
The RHOA star admitted Tucker's mom Sharon "is really upset right now," after viewing the Kandi's Wedding episodes and discovering Mama Joyce called her a prostitute: "She didn't know that 'til she saw it on the show."
Burruss didn't tell Sharon about Mama Joyce's slurs and added, "That's not true about his mom, let me say that."
The reality star, 38, also told fans she and TV producer Tucker would like to have children together: "We're not trying but we're not not trying. If it happens, it happens."