RHONJ Confessions! Scandal Plagued Teresa And Joe Giudice Discuss Their Future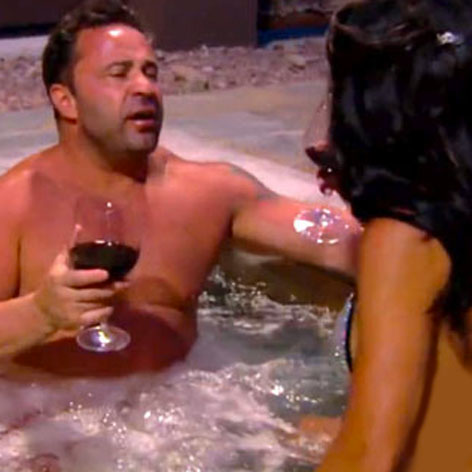 Teresa Giudice and her husband Joe discussed his legal nightmare during a sexy bonding moment in the jacuzzi during Sunday night's The Real Housewives of New Jersey.
As RadarOnline.com previously previewed, Juicy Joe referred to his legal issues during a healing exercise at an Arizona spa retreat with the rest of the cast.
But the show was shot before Joe and Teresa were indicted on multiple fraud charges this year--so viewers learned Joe was talking about an earlier legal mess, in which he was charged with allegedly fraudulently obtaining a New Jersey driver's license in 2011.
Article continues below advertisement
When the gang attended a therapy session involving a horse, the therapist asked Joe,"What's your greatest fear in life?"
GALLERY: The Giudice's 30 Most Shocking Quotes About Fraud & Finances
"A little motor vehicle issue," Juicy Joe admitted.
His brother-in-law, Joe Gorga, marveled, "I'm totally shocked Joe would bring up legal issues. This is a big step for Joe Giduce."
Not realizing at the time things were going to get even worse, Joe and Teresa, who steamed up the jacuzzi in her itsy bitsy bikini, discussed how he had told the other RHONJ stars about his fear on the driver's license charges.
"That was really big of you to say that in front of everyone," Teresa said.
In confessional, she added, "It takes a man to talk about issues that they normally don't talk about. My husband doesn't deserve any of this."
As RadarOnline.com has reported, Juicy Joe confided to his wife, "It's always there. You get up thinking about it," and protested that he was NOT "a f---ing criminal!"
On Sunday, he also told Teresa, "We've got good people on our side. We'll see what happens. We got a good attorney and when it's over, it's over.
Article continues below advertisement
"It's not like I want to be away from you or my kids. That's the last thing I want to do is be away from my kids. That's what keeps me going every day. Everything else is bulls---."
Teresa told viewers in confessional, "We're a team."
Meanwhile, Juicy Joe's friend and RHONJ co-star, Rich Wakile, was impressed by his attitude.
"I've seen the true colors of Joe Giudice and I don't want him to go to jail 'cause his kids don't deserve to be without a father," Rich said.
Joe told Rich at the Miraval Spa in Arizona, "Every guy cries in his life. Every guy."
Juicy also said, "Everybody's got a little fear in him."
Also on Sunday night's RHONJ, frenemies Teresa and Jacqueline Laurita continued to mend fences. Teresa assured her that when she said karma comes back through people's children, she was NOT referring to Jacqueline and her husband Chris Laurita's autistic son, Nicholas, but to herself.
Article continues below advertisement
"We need to move forward," Teresa told Jacqueline at the spa. "I missed you."
"I didn't think you would ever let me back in," Jacqueline said.
She wound up laughing with her fellow housewife and commented in confessional, "I see some spiritual growth with Teresa,"
Others also experienced growth during the healing therapy exercise designed to coax a horse to lift its leg.
Kathy Wakile's sister, Rosie Pierri, told the horse therapist that said she was uncomfortable and admitted she often felt like she wasn't good enough.
Emotional Rosie, who is openly lesbian, told viewers in her Italian culture, women are expected to get married and have kids, and she hadn't followed that path.
"I'm very alone," she said in confessional. "Am I not worthy of being happy?"
Melissa Gorga raised eyebrows by pretending to saunter up to the horse just like Rosie had, prompting the therapist to mutter, "that's a whore on a stroll walk."
He then implied Melissa was manipulative!
Article continues below advertisement
The equine therapist also took a dim view of Teresa, who exhibited no horse sense and took a call from her daughter Melania instead of focusing on the day.
But others got more out of the exercise, with Kathy opening up about how her husband Rich never listened to her and confiding, "I let my own needs and triumphs fall by the wayside."
Rich fumed to the cameras, "All of a sudden, I'm the bad guy in her life."
Caroline Manzo's husband, Albert, revealed he had been emotionally abused by his father.
Caroline said Al had a rough childhood.
Later, after the RHONJ stars were led by a Native American in a drumming exercise, Rosie said she didn't think her sister Kathy "gets the support she deserves from us."
Kathy told the group, "I approach everything with an open heart. It would be nice if I felt the same way in return."
Rolling her eyes in confessional, Teresa declared,, "Kathy's having one of her Marcia, Marcia, Marcia moments!"