Exclusive
Giudice Vs. Gorga War Goes Nuclear! Teresa & Melissa Hit A New Low In Fighting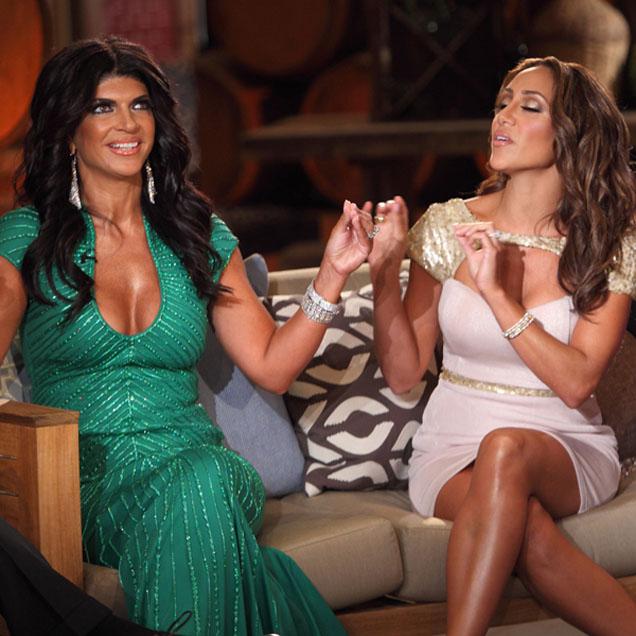 The war between Teresa Giudice and Melissa Gorga has gone nuclear and RadarOnline.com has all the exclusive details about why their fights are so bad and what's coming up next for the feuding families.
The Real Housewives of New Jersey stars each took to their blogs this week following the explosive fight while they were on a family retreat to bash each other, but insiders say that there are more fireworks to come.
Article continues below advertisement
"I have to say for all Melissa's accusations, you have never heard me call her a gold digger, a stripper, or a cheater because I never have," Teresa claimed on her blog.
"Not once. (If I had, you know it would be played back over and over.) But I couldn't list all the things she has called me and my husband. Did she really whine through an entire blog because Joe called her a "horsey face"? He said my brother was a "dum dum" this episode, so I can only imagine what's coming. Alert the tabloids!"
Melissa slammed her sister-in-law, calling Teresa out: "Just last week in her blog, Teresa outright threatened us saying I am "very, very lucky that she's keeping quiet about the things she does know" about me and my marriage," she wrote.
"I thought we are supposed to be in a better place? This is exactly why I didn't want to just put on a fake smile and pretend that we could snap our fingers and the animosity would disappear. Teresa can threaten me all she likes. All day long, or all night in the hot tub. In fact, I beg her to write in her blog what she "has."
Article continues below advertisement
What lie is up her sleeve? I'm dying to know. Do share with us all, Teresa. It's been open season on me for a while. You might as well bring it out. I've been called everything under the sun. What else you got? I can't wait to hear directly from you, not others."
Insiders connected to the women say that Teresa has been telling friends and other people connected to the show that she is prepared to reveal "dark secrets that Melissa doesn't want out there," and that she is planning a surprise attack on her brother's wife.
"Teresa is telling people that she knows there is a lot of dirt out there about Melissa and she is going to make sure it is exposed no matter what!"
But Melissa apparently isn't afraid of Teresa anymore.
"Teresa wants everyone to think that she has all sorts of bad stories to tell about Melissa, but if she has it why hasn't she shown the proof? Melissa's heard the threats and she just doesn't believe that Teresa has anything on her or she would have already played her cards."
However, the source connected to Teresa says she isn't making empty threats.
"Teresa says she has something on Melissa so everyone is waiting to see what it is."
The Real Housewives of New Jersey airs on Bravo Sundays at 8/7c.