Teresa Giudice 'Stepped Up To The Plate' With Guilty Plea In Fraud Case, Her Friend Kim D. Says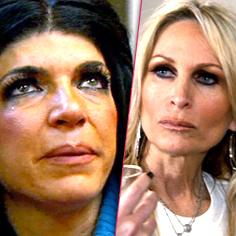 Teresa Giudice will get by with a little help from her friends.
In this case, her perennial bestie Kim Depaola, who expressed her pride and support for her pal Wednesday, after the reality star's guilty plea to fraud and tax evasion charges on Tuesday with her husband Joe.
Depaola, speaking with The Derek Z Show, said Teresa "stepped up to the plate" in taking responsibility for the legal miscue with her guilty plea.
Article continues below advertisement
"I think when she realized, when the papers came in, and her lawyer sat her down, she realized maybe she had done something wrong," Depaola said. "And we've all done wrong things -- fortunately for most people, it's not against the law.
"And she stepped to the plate and she owned it -- she's owning it. Whatever comes to her, whatever happens because of this, she's going to accept it."
As we previously reported, with the guilty plea, the lynchpin of the Real Housewives of New Jersey could serve up to 27 months behind bars, while Joe could be locked up for up to 46 months.
Watch the video on RadarOnline.com