Exclusive
Prosecutor Rejected Giudice Plea Bargain Offer BEFORE Court -- Teresa Would Have Skated, Joe Served Jail Time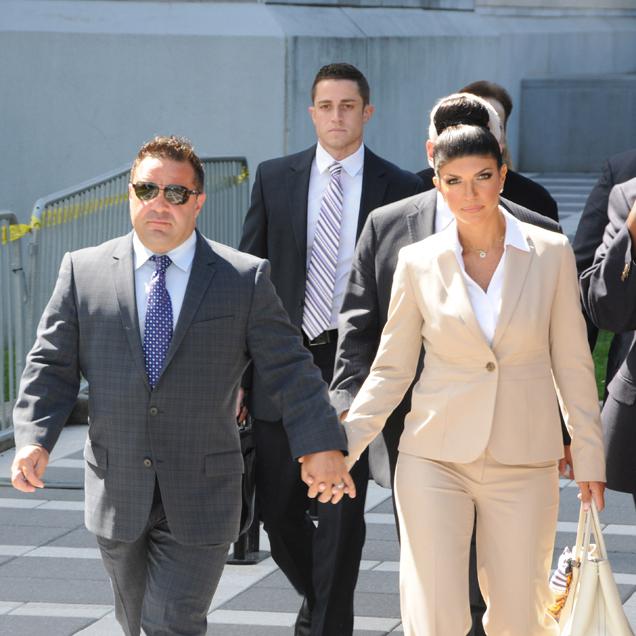 All the begging and crying in the world isn't going to help Teresa Giudice win her legal battle because RadarOnline.com has exclusively learned that the prosecutor shot down the plea deal her team offered where she wouldn't have to serve any jail time.
"Teresa and Joe's defense team submitted a plea deal on Wednesday but the US Attorney denied it," a source close to the situation said.
"Teresa wanted a plea deal that keeps her out of jail so she offered to do anything else BUT jail time and have Joe serve all of the time in jail. The prosecutor dismissed the deal outright."
Article continues below advertisement
The Real Housewives of New Jersey stars have been indicted on 39 counts of fraud and tax evasion and they're facing a whopping 50 years behind bars if they're found guilty but Teresa is wheeling and dealing trying to get out of any jail time.
"The prosecutor has said that if she wants to plead it out she has to do jail time," the source said.
"They believe that the evidence will show that Teresa can't play dumb. She was in cahoots with Joe and was just as much a part of orchestrating the scam as he was."
Even though the Giudice's have four young children at home, the source said that the prosecutor is looking for jail time for Teresa and Joe.
"They are pushing for time for BOTH of them.
"They're going to paint a completely different picture of Teresa and believe that they can show that she was just as involved as Joe in creating the fraud."
The source said the prosecutor is pushing to start to trial in October, with "No delays and no bullsh*t."