It's All Her Fault! Teresa Giudice Blames 'B***h' Jacqueline Laurita For Toxic Family Feud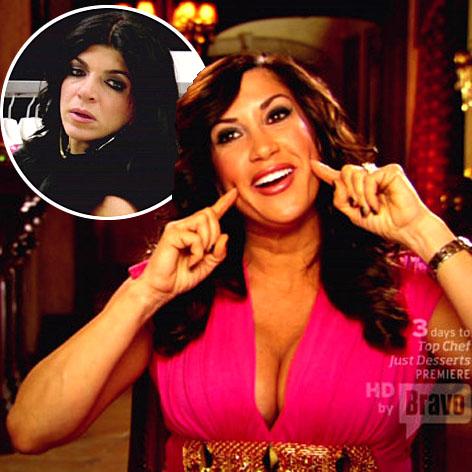 When it comes to Teresa Giudice's feud with her brother, Joe Gorga, the table-tossing Real Housewives of New Jersey star seems willing to lay the blame anywhere but on herself.
Though Joe's wife, Melissa, is most frequently Teresa's sparring partner, in a new preview clip from the show's upcoming episode, Teresa names one-time BFF Jacqueline Laurita as the one behind the siblings' rift.
Jacqueline and Teresa's cousin, Kathy Wakile, were having a fun shopping day at Robin's Closet in Boonton, NJ, when Teresa crashed their outing via phone call.
Article continues below advertisement
Though ostensibly calling to ask Kathy to join her and other members on a holistic healing retreat, Teresa quickly turned the conversation to Jacqueline.
"I really don't speak to Jacqueline…" Teresa revealed, unaware that Jacqueline was listening in on speakerphone. "And also, you know, I'm kind of in this mess with my brother because of Jacqueline."
Finally at her limit, Jacqueline swooped in and snatched the phone from Kathy's hand. "I think it's great that you're trying to work things out with your family," she told Teresa, "but you need to stop blaming me for your family issues."
Teresa snapped back, "You should've kept your mouth shut instead of telling my brother that I was the one who set the whole thing …"
Jacqueline interrupted, "Honey, you were at the salon earlier that day with that guy."
"Don't call me honey, b*tch," Teresa interjected.
Jacqueline continued, "You knew Melissa was the target and you were with him all day. Are you talking over me because you're guilty? Are you talking over me because you asked me to con out Melissa and I wouldn't do it, so you got someone else to do it?"
What exactly was Jacqueline talking about? To find out, watch Real Housewives of New Jersey on Bravo Sunday night 8 pm/7 central.
radar_embed service=bravotv src="http://www.bravotv.com/video/embed/?/_vid2658607" width="400" height="225"