Exclusive
Giudice Vs. Gorga Goes Nuclear! Teresa 'Scheming To Humiliate' Melissa, Stirring Up Scandal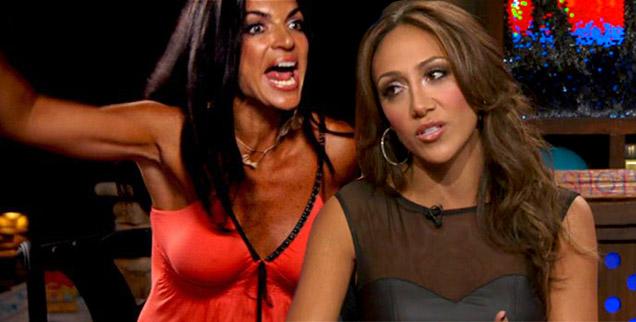 Teresa Giudice started a vicious fight last season on The Real Housewives of New Jersey and RadarOnline.com has exclusively learned that all hell is about to break loose with her sister-in-law Melissa Gorga!
"Teresa is stirring up sh*t behind the scenes," a show insider told RadarOnline.com. "It seems like Teresa is scheming to humiliate Melissa now. She was part of the whole 'Melissa is a stripper' story and the same people who were behind that story are now ramping up their attacks against Melissa."
Article continues below advertisement
As RadarOnline.com previously reported, a man named Bryan "Bulldog" has inserted himself into filming for the fifth season of RHONJ by claiming that he and Melissa dated before she married Joe Gorga and he's threatening to drop an atomic bomb on her.
"She is feeling like there are a lot of people that are actively trying to hurt her," the source said.
Melissa is also concerned that while Teresa opened the door with the stripper story those same people are taking things too far.
"They are desperately trying to tie themselves into the show and find people from Melissa's past that are willing to lie and give dirt on her to get their 15 minutes of fame," the source told RadarOnline.com, and said that their actions are starting to worry Melissa and her family.
"It's getting out of control and is borderline stalking."