Teresa Giudice Plans Healing Retreat With Family After Confrontation With Rosie Pierri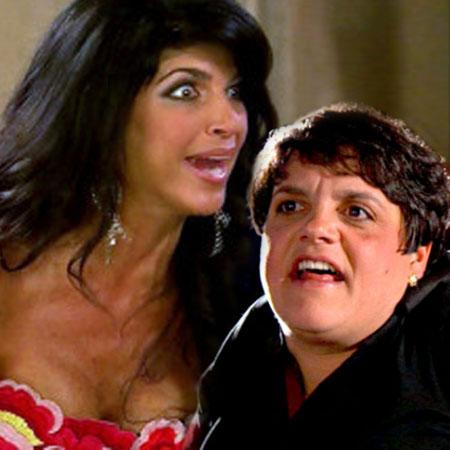 After Teresa Giudice's cousin, Rosie Pierri, read her the riot act on The Real Housewives of New Jersey, the woman who is famously feuding with her brother Joe Gorga has decided to invite family members on a healing retreat.
That's what viewers saw on Sunday night's episode, which climaxed with Rosie meeting Teresa for a pow wow at a Jersey bar. Predictably, Kathy Wakile's explosive sister wound up shouting the F word and pounding the table in anger, but at the end of the night, Rosie and Teresa came to an unexpected meeting of minds.
Article continues below advertisement
When Teresa told Rosie her plan of getting family members together in a holistic setting, Rosie embraced the idea.
"This is what I was thinking about--there's this stress release holistic healing for the weekend, which is good because you're stuck with this person all weekend long," Teresa said.
"That's good! I want to hear more about this retreat," Rosie said.
"We can make it a whole family affair," Teresa said. "I feel like I have to try something else so maybe being away for a few days doing stress exercises, whatever it takes, I can't give up."
Teresa later concluded, "I love Rosie. We got out what we had to get out."
But what a bumpy night it was before they made peace! Raging Rosie, referring to Teresa's feud with Kathy, told her, "You've got this thing with my sister. It's not right!"
Rosie started pounding the table. "You're always blaming my sister!"
As people at the pub stared at them, Teresa explained, "Kathy called my dad a coward."
But Rosie was having none of that, saying that because Kathy had apologized to Teresa, she should let it go. And Rosie pointed out how the feud was hurting Teresa's own parents. "It's going to be on you! F*** you! Let it f***ing go!" Suddenly, after her table pounding antics drowned her cell phone in liquor, however, Rosie calmed down and the two passionate women came to a truce over the retreat idea.
Article continues below advertisement
Earlier, viewers saw Rosie also meet with Joe Gorga to help mend family fences. After humorously admitting to him, "I haven't had sex in six f***ing years," the Jersey gal indicated her concern that Joe was "getting sick inside with this s***" about his sister.
Rosie said his stubborness needed to change: "Give her one more chance, Joe," she said. "I'd like to see that old Teresa come back to you."
Meanwhile, Sunday's episode also dealt with more fallout from Joe Gorga's explosive gym confrontation with Teresa last week. When Joe asked his wife Melissa Gorga about Teresa's complaint that Melissa had criticized her via Twitter, the housewife had to admit it was true. An incredulous Joe suddenly took his sister's side, saying Melissa was in the wrong.
"You're attacking her. She talks about the Twitter s***," Joe pointed out. "My parents come to the house and they look at you like you're the devil. She's the only sister I have."
Separately, Teresa and her husband, Joe Giudice, also talked about the issue --while they watched their daughter at soccer practice. As RadarOnline.com has previously reported, Joe pontificated about how Joe Gorga has a Napoleon complex because he's short!
Article continues below advertisement
Later, Teresa called Caroline Manzo to complain about her brother--but also to say "I still want to make up with him." Caroline suggested they should seek professional help for their problems.
"If it works, isn't that wonderful?" said Caroline, who also knew she needed to step aside in the family controversy.
Also on the episode, Kathy and Rich Wakile argued about the cannoli business he was helping her launch so they could sell it nationwide. While Kathy wanted the cannoli sold in a fancier box, Rich didn't think it mattered.
"I married a housewife, not an entrepreneur," he said.
Later, after Rich paid for Kathy to have her own commercial kitchen outside the home, she shocked him by being mad instead of glad. Kathy wanted to have more control over the business, and couldn't make Rich understand.
"It took my business talent to get us here," Rich barked.
"I want my opinion to matter to you," she told him.
During a later confessional, Kathy completely broke down, saying, "I can't change Rich. He's going to be who he is. After 21 years of marriage, I can't take it anymore."
Article continues below advertisement
Getting choked up, and appearing to have huge marital problems, Kathy said, "This is just a hard thing to talk--about."
But Caroline's kids had no problem talking about their own folks' marriage, with Albie saying he looked up to it as a model even as Chris pointed out their parents only saw each other once a week. Chris said he didn't need to get married because he didn't want kids, and had an inappropriate thing to say about overweight girls that is sure to get him in hot water: "fat girls are b*** job queens."
However, his kinder/gentler brother Albie said he wanted kids really bad. Later, Lauren Manzo talked to her brothers about how she lost 40 pounds and now her priority is her career, not her boyfriend Vito.
On the Laurita family front, fans saw Jacqueline suffer a mini meltdown with her autistic son, Nicholas. When she asked the boy to say please, he started to cry and act out. Jacqueline had to take a mommy time out and was in tears and her husband Chris came in and gave her a hug.
Article continues below advertisement
"It's hard to see him struggle like that," Jacqueline said, crying. "He hits himself. It's hard to watch. At times there are setbacks."
Also on the Real Housewives, Melissa's older sister and mom visited her and they discussed how she would write about her late cheating dad in her upcoming book about marriage. The Jersey housewife's mother asked nervously how much Melissa would reveal about him.
Her mother admitted of her late husband's infidelity, "I never caught him but I guess I assumed it."
Melissa said she didn't want to sell anybody out -- but needed to tell the truth. "Do what you have to do," her mom sighed.