She Needs Help! Teresa Giudice Consults Psychiatrist After Blow-Up With Brother Joe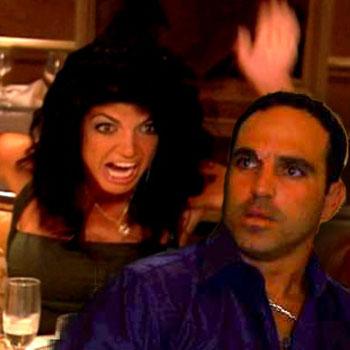 Whatever happened to brotherly love? Teresa Giudice was so blindsided by her brother Joe Gorga's recent attack on her that she was driven to see a psychiatrist!
The Real Housewives of New Jersey star opens up about the explosive sibling spa day that was featured on this week's episode, in her Bravo blog, and RadarOnline.com has the details.
"I definitely did not expect his attack," Teresa writes. "I didn't understand any of it then, and I still don't now. He's my brother, and as mad as I might be at him, I would never hurt him in public like that."
Article continues below advertisement
"I don't understand how he could even say half the things that came out of his mouth, directly to my face, in public in front of America," she continues. "I get it that in the heat of the moment people who have deep feelings for each other know how to hurt each other the most, but still, there are lines you don't cross. When Joey started talking about my husband's parenting, that was it for me. He crossed the line and was out of line."
In fact, Teresa was so shocked and confused by Joe's behavior, she says, that she required professional help to come to terms with the outburst.
"One of my best friends' dads is a psychiatrist, and she told me that everything Joey did was a defense mechanism to protect himself from his own feelings," Teresa reveals. "He denies anything is wrong in his own life, displaces his anger at himself or his wife to me since he knows I won't fight back, and projects things he is actually guilty of onto other people, like my husband. It does make sense to me, but it doesn't hurt any less."
Article continues below advertisement
In the same expansive blog post, she also reacts to Jacqueline Laurita exposing Teresa's Botox use on the episode, maintaining that she has never kept her injections a secret.
"I'm not going to attack back, I'm not going to go on and on defending myself, but I will say, I don't really hide anything, especially something as silly as Botox!" she rants. "Um, Jacqueline, do you not remember going with me to Danielle's Botox party in Season 1? I don't know why we're even talking about it now though... We haven't talked in months and months, and this is what Jacqueline is worried about?"
And as for her cousin Kathy Wakile bringing her dad into their arguments, Teresa is furious that her father, who has only appeared in a few episodes and doesn't talk about Kathy's family, is becoming a target.
"I signed up to be on a reality show; my dad didn't," Teresa writes. "He's only appeared a few times for his children, but not for himself. He wants no part of this show, he doesn't even watch it (Thank God!), and I think you can see why."