Teen Basketball Player With Down Syndrome Hits Three-Point Shots To Land On SportsCenter!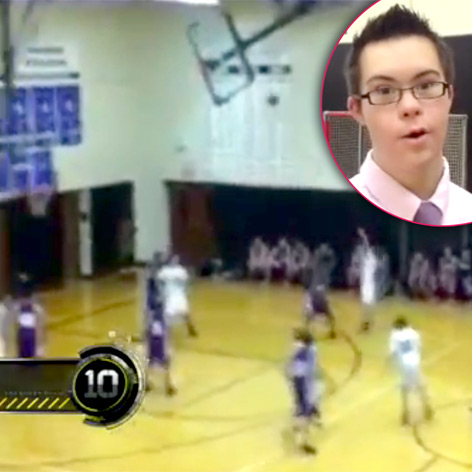 Move over LeBron James, there's a new phenomenon on the basketball court!
A middle school student from Rochester Hills, Mich. won a coveted spot on ESPN's SportsCenter "Top Plays of The Day" list when he made a pair of three point shots during the Van Hoosen Middle School game against Boulan Park on Wednesday night, reported the Detroit Free Press.
But what really makes Owen Groesser's achievement so impressive is that the teenager has Down syndrome, and it was the first time he had taken the court all season!
Article continues below advertisement
"He's got a good shot," said his proud father, Chris Groesser after the game. "I wasn't shocked, but I was definitely thrilled. It was a big day for him."
The memorable moment came when coach Jeff Howell put Owen into the game with about two minutes left, and as the crowd chanted his name, he ran down the court, came off a pick and hit a three-pointer.
Then he went back down the court and played defense before returning to the basket to score his second three-pointer with 10 seconds left in the half.
As the buzzer sounded, Groesser was mobbed by his teammates, but it was what happened after the game that really had an impact as thousands began a Twitter campaign (#GetOwenOnSportsCenter) to get him on SportsCenter.
Hours later, the shot that was perfected with his dad in the driveway earned him some nationally televised air time on ESPN, as co-host Scott Van Pelt told him from his TV screen: "Owen, you're on SportsCenter, kid."
Article continues below advertisement