Kim Kardashian's Ex Kris Humphries Involved In Basket-Brawl In Boston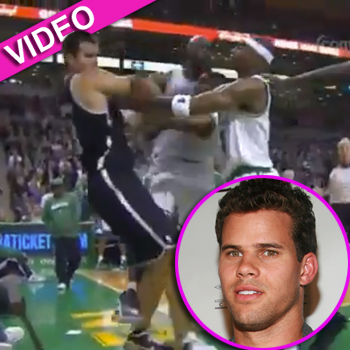 Kim Kardashian's ex Kris Humphries got into a heated shoving match with Celtics guard Rajon Rondo during the Nets 95-83 win at Boston's TD Garden Wednesday night.
The skirmish began after Humphries fouled Celtics center Kevin Garnett, causing an upset Rondo to shove Humphries' chest, and get one back in return.
Celtics guard Jason Terry and Nets forward Gerald Wallace both joined the pile, which spilled over into the courtside seats. All three of the aforementioned players except Terry were kicked out of the game, and Garnett was handed a technical foul in the incident.
Article continues below advertisement
Neither Rondo or Humphries spoke with reporters after the game, though Humphries tweeted a shot of his scratched-up arm with the caption, "Anyone know where I can quick get a Tetanus shot in Boston?"
Rondo's temper cost him a potential milestone, as the early ejection ended the superstar point guard's streak of 37 games with at least 10 assists -- a tie for second highest of all-time, and just nine short of Magic Johnson's record of 46 in the 1983-84 season.
Watch the video on RadarOnline.com
The veteran Terry had harsh words for Humphries, telling CSNNE of the forward, "Some guys are tough, some guys pretend to be -- he's one of those that pretends to be."
Garnett said of Rondo's aggressive actions: "You have to protect each other, and we consider ourselves family around here, and that's just the way it is."
Kim did not publicly react to the incident on her Twitter, as she is currently on a promotional tour of Kuwait.
Both fines and suspensions are anticipated in response to the brawl.