'Teen Mom' Katie Yeager Breaks Down In Tears As Baby Daddy Joey Maes Destroys House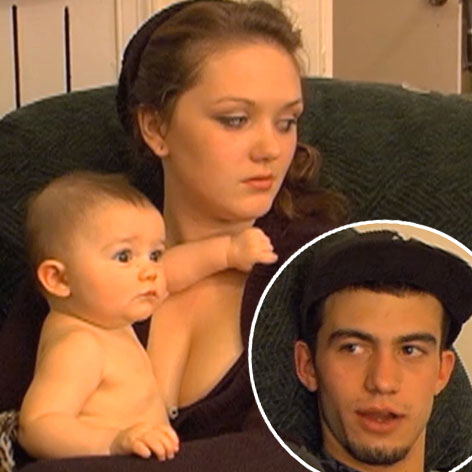 It wouldn't be an episode of Teen Mom 3 if there wasn't drama going down between the moms and their baby daddies.
In the upcoming episode, Katie Yeager and her new fiancé Joey Maes get into a huge blowout fight about financial problems and moving into a new home that leaves Katie in tears and Joey destroying their home.
"I just want us to be financial stable," Katie tells Joey.
"Katie, we're moving into some of the nicest apartments in town," Joey responds. "We're obviously not that f***ing broke."
Article continues below advertisement
Katie doesn't want Joey to yell at her, though -- and Joey is tired of fighting all the time.
"I'm sick and f***ing tired of every night, three f***ing hours before I gotta go to work, we gotta f***ing fight."
Katie replies, "Sorry, I'll just continue to keep everything bottled up."
This sends Joey over the edge and he gets up and stomps around the house screaming at Katie.
"You think if I wasn't dating you, I would live in those apartments?" he questions. "I'd give two s***s if I lived in a nice apartment. I got the place to make you happy."
Katie eggs him on: "You know what you have to do to make me happy? Stop yelling at me."
But apparently Joey thinks that all Katie wants is for him to make more money and Katie breaks down in tears.
"Why can't you love me like I love you?" she asks.
"Are you f***ing kidding me? Why can¹t I love you like you love me?" he answers. "I¹m the one who bought a f***ing ring and a f***ing apartment and everything just because I want to make you and Molli happy. That's it. But I can't no matter what I do."
Article continues below advertisement
Katie cries: "All you care about is having the most control."
She decides that the new apartment isn't a good idea and Joey tells her to let the complex know that they have changed their minds.
Katie then suggests that they go to therapy, but Joey isn't down for that idea.
"I've tried counselors," he screams. "They don¹t f***ing work. You know what would work? If I didn't fight an hour before I gotta got to f***ing work every f***ing damn night. That would help my anxiety. No matter what I do, it¹s not good enough, Katie."
"What¹s going to make you happy?" Joey asks as he smashes a bunch of stuff off of a table. "What is it? This is bulls***."
Katie agrees: "I know."
Get More: