Teen Mom 3 Disasters: Drugs, Cheating & Food Stamps For The New Stars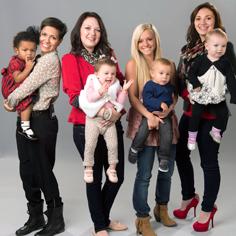 Watch out Jenelle Evans and Amber Portwood, you've got some competition from the Teen Mom 3 stars for being the biggest train wrecks on MTV, with drug allegations, cheating scandals and such dire financial straits that one girl even ends up on food stamps this season.
Alex Sekellas' baby daddy is the cause of her major drama in the show. Matt McCann lives with her after rehab but she ends up kicking him out after she claims he goes back on hard drugs. "His chances are gone now," the 19-year-old Alex tells In Touch magazine.
Article continues below advertisement
Katie Yeager's boyfriend, Joey Maes, is in the running for the worst of the bunch, proposing to her but then getting caught cheating on her. "He's a good father but a terrible boyfriend," she told the magazine.
Briana DeJeus has struggled financially since giving birth to her daughter Nova, and she even had to go on food stamps because she says her baby daddy, Devoin Austin isn't helping her out financially. "I'm so disgusted with him," the 19-year-old said.
She says that she isn't letting him see their daughter because she contends he isn't helping to support her, and she has her mom and sister to back her up. "He has to get through all of us to get to her. Good luck!"
Mackenzie Douthit already has one baby with Josh McKee when they decide to tie the knot, but now she's pregnant with their second child and they just had their wedding. "I married my best friend," she said.