Exclusive
Daddy Dealer? 'Teen Mom 3' Star Alexandria Sekalla Accuses Her Baby Daddy Of Selling Drugs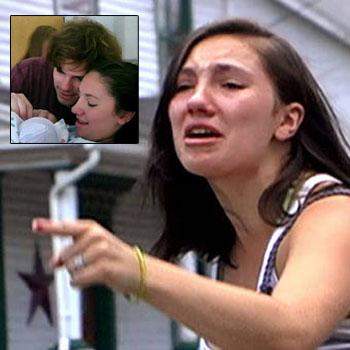 MTV released the new trailer for Teen Mom 3 on Tuesday and one of the cast members is already staking a major claim to her share of the spotlight.
Alexandria Sekella, teen mom to Arabella, is claiming publicly online that her daughter's dad, Matthew McCann, and his girlfriend, Lekota Koch, deal drugs.
"I mean Lekota and Matt sell drugs," Alex wrote on her ask.fm page recently. "Not exactly what I want my child around."
Article continues below advertisement
"It's no secret matt sells drugs," she wrote of her unemployed ex. "If he spends so much money on Lekota with no job he's got to be getting it from somewhere right haha."
According to Alex, Matt's family is even aware of the situation. "I speak with his mother who says e sic is as well as Lekotas neighbors," she claims.
As such, she's trying to keep him and his girlfriend out of Arabella's life....I don't even care for him as the father of my child anymore," Alex says. "And I made it my personal mission to make sure that Lekota is never near Arabella. She isn't a good influence."
Lekota, however, tells RadarOnline.com exclusively that the "ridiculous" claims are "not true whatsoever."
She says, "There's no way that that would ever possibly happen, that I would be on drugs or that I would do or that I would sell drugs." Claiming that she wants to enter the FBI Academy, Lekota explains, "I want to do good enough to do that. Like you have to have a clean background."
Lekota's boyfriend, Matt, is clean too, she says, insisting: "I've never once seen or heard of Matt dealing drugs."
Article continues below advertisement
As for other claims by Alex, Lekota says those are totally false as well.
What's more, Lekota reveals that she's barely even met Alex. "I've only ever seen her once when Matt was in the hospital and she was there starting drama," Lekota explains. "I've never talked to her in person. i don't know her. She doesn't know me."
These new claims, Lekota says, are simply "due to the fact that Teen Mom 3 is coming up soon and she just wants to start sh*t so that more people will watch the show."
The new season premieres on MTV on August 26, but it's far from over. Alex Tweeted on Wednesday that she has "screen shot evidence" to support her claims, and intends to use it. "Call me a compulsive liar when i have screenshot evidence what matts doing," she tweeted, "gosh lekota won't get over herself she's like an ant that ill squash."